Exposed C24 chairman agrees to receive Gibraltar's Picardo to match a meeting with Spanish minister
Wednesday, July 15th 2015 - 06:53 UTC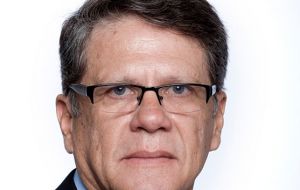 Gibraltar Chief Minister Fabian Picardo is in New York for a meeting with the Chairman of the UN's Decolonization Committee of 24, ambassador Xavier Lasso Mendoza. The meeting arose from the Chief Minister's intervention before the C24 last month, during which the Ecuadorian diplomat confirmed he had met with a Spanish government minister to discuss Gibraltar, according or a report from the Gibraltar Chronicle.
Chastised by the Chief Minister over the meeting, Lasso Mendoza said it was his responsibility as chairman to hear all sides. He added that he would meet Picardo if the Chief Minister requested it.
During the session in UN's building in New York, Chief Minister Picardo had also waved a first class plane ticket at the chairman in an attempt to convince him to visit Gibraltar.
Lasso Mendoza declined the offer but said he would meet Mr. Picardo in his office in the Ecuador Permanent Mission to the United Nations.
Speaking to GBC after that intervention Mr. Lasso Mendoza suggested that Mr. Picardo might have used more subtle and insightful language in his address.
Mr. Picardo is accompanied by the Deputy Chief Minister Dr Joseph Garcia, who is responsible for political lobbying, and the Minister for Economic Development Joe Bossano, who is charged with attending UN decolonization seminars.