Guyanese president Granger will attend Mercosur summit in Brasilia
Wednesday, July 15th 2015 - 07:34 UTC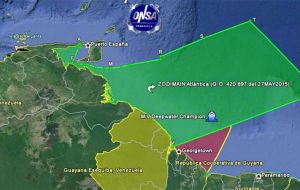 Guyanese President David Granger and Foreign Minister Carl Greenidge plan to attend the biannual Mercosur summit in Brasilia later this next, a Foreign Ministry spokesman confirmed to the Spanish news agency EFE.
The Foreign Ministry official did not provide further details on the agenda of the mission that will travel to Brazil this week and will include three other government representatives.
Mercosur full members are Argentina, Brazil, Paraguay, Uruguay and Venezuela. The presidents of Chile, Peru, Ecuador, Bolivia, Colombia and Suriname, all associate Mercosur members, are also slated to attend the July 16-17 summit.
The hoped-for trade agreement between the European Union and Mercosur will be one of the main topics of discussion at the summit, where Brazil will hand over the rotating presidency to Paraguay.
Another topic that may be discussed at the meeting is the dispute between Venezuela and Guyana over the waters off Essequibo region, where a subsidiary of U.S.-based ExxonMobil announced the discovery of a significant oil field.
Last May president Nicolas Maduro signed a decree extending Venezuela's maritime space all along the coast of the disputed Essequibo region where the oil discovery was reported. A Caricom summit in Barbados supported Guyana against Venezuela's territorial claims and likewise a statement from the Commonwealth of Nations.