Cristina Fernandez hails Mercosur success in integration and in promoting a political block
Saturday, July 18th 2015 - 09:15 UTC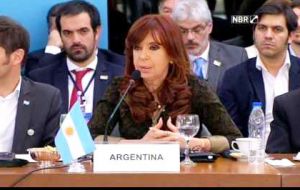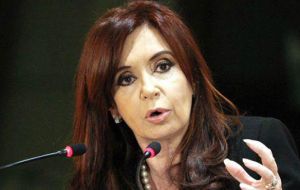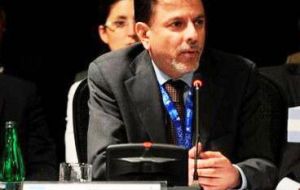 In what can be considered her last speech before a Mercosur summit, Argentine president Cristina Fernandez, who is stepping down next December, hailed what she called the "magnitude of the importance of integration" in South America with the inclusion of both Venezuela and Bolivia showing the "success and the resounding failure for those who forecasted for years that the Mercosur was going to fail."
"As responsible leaders, we cannot stop noticing the challenges we have ahead," Cristina Fernandez said stressing the need to address destabilization attempts in all South American nations, alluding also to Argentina's current battle against so called speculative or "vulture" funds suing the country over its defaulted bonds, which Buenos Aires accuses of seeking to destabilize the government and to loot the country.
"I think we have to strengthen our democracies more than ever," the president affirmed praising the creation of the Mercosur democratic clause that makes any member state of the bloc lose its membership if its government is ousted or gets to power in a non-democratic way.
Cristina Fernandez highlighted as well the efforts made in the UNASUR bloc to resolve regional conflicts with "efficiency and effectiveness."
"The UNASUR might not have the marketing of the United Nations but, when dealing to resolve conflicts, without the needed to fire a single shot, we have proven efficiency and effectiveness," the head of state affirmed questioning asymmetries in the UN with some nations gaining "hegemonic positions."
"Here we are all the states equal, there is not Security Council with five or six states that can veto (a resolution), making hegemonic positions prevail; we resolve things with more velocity and efficiency."
"The egalitarian treatment, no matter what the economic, military or technological power of the countries, is one of the main problems, not the United Nations, but the world has to resolve conflicts bringing alarm in many places in the world today," underlined the Argentine leader addressing her peers at the Brasilia summit.
"Lot of emphasis is put in the economic (side) but conflicts in the world continue to be deeply political; they continue to have to be with power, with geopolitics in which the economy is an important chapter but politics continue to be fundamental."
The Argentine leader travelled to Brazil accompanied by Eduardo Zuain, Hector Timerman's second-in-command following the foreign minister's health condition that forced him to undergo surgery earlier this week. Economy Minister Axel Kicillof and Public Communication Secretary Alfredo Scoccimarro were also in the Brazilian city to participate in the event.
Speaking to the media in Brasilia, deputy foreign minister Zuain said Mercosur "must move towards the path of consolidating as a political subject" that cooperates in the "fight for a fairer international financial architecture."
"We hope the Mercosur consolidates the idea of a political subject rather than a trade economic subject, that helps consolidating democracies but also the processes of growth with social inclusion," the Argentine official said praising as well the possibility of including Bolivia as a full member of the bloc.
"We are very pleased of finally signing the entry of Bolivia because Argentina helped a lot in this process", she concluded.