Brazil's recession expected to continue next year according to top bank
Thursday, July 23rd 2015 - 08:52 UTC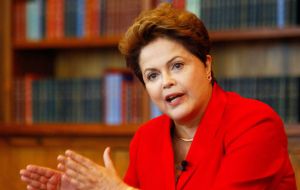 Brazil's recession will extend into next year, hurting President Dilma Rousseff's efforts to shore up public finances and arrest a sharp increase in unemployment, Itau Unibanco's chief economist said in a report on Wednesday. Ilan Goldfajn forecasts a drop of 2.2% in 2015 and 0.2% in 2016, down from previous estimates for a decline of 1.7% in 2015 and an increase of 0.3% in 2016.
The revision suggests that consensus estimates for Brazil's economic growth will probably continue to worsen in coming weeks despite efforts by Finance Minister Joaquim Levy to restore market confidence. The median forecast of economists last week was for Brazil's economy to grow 0.5% in 2016, according to a weekly central bank survey.
"Leading and coincident indicators suggest that the declining trend in economic activity may last longer, and be stronger, than we expected," Goldfajn said in his note.
Itau Unibanco expects Brazil's unemployment rate to climb to 8.0% this year and 9.0% in 2016. The bank also expects Brazil to miss its main budget target in both years, with a primary budget surplus of just 0.5% in 2015 and 1.0% in 2016.
Inflation will probably remain above the center of the government's target of 4.5%, settling to 5.3% at the end of 2016. Still, signs of slower inflation in 2017 should allow the central bank to cut its benchmark rate from an expected 14.25% at end-2015 to 11.25% in 2016, Goldfajn forecasted.
In related news analysts expect Brazil's economy to contract by 1.70% this year, with the inflation rate reaching 9.15%, the Central Bank said. GDP and inflation estimates come from the Boletin Focus, a weekly Central Bank survey of analysts from about 100 private financial institutions on the state of the national economy.
Analysts surveyed for the previous edition of the Boletin Focus had expected Latin America's largest economy to contract by 1.50%. The government has revised its GDP estimate for this year to a contraction of 1.20%, which would be Brazil's worst economic performance since 1990.
The austerity measures taken by President Dilma Rousseff's administration have put the brakes on economic activity and led to higher unemployment, with the jobless rate rising to 6.7% in May from 4.8% at the end of 2014. Economic activity contracted by 2.64% during the first five months of this year, the Central Bank said in a report released last Friday.