Cristina Fernandez' candidates for October's general elections have a clear lead
Thursday, July 23rd 2015 - 06:21 UTC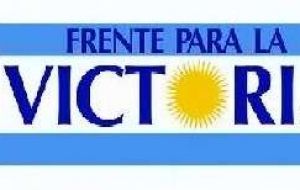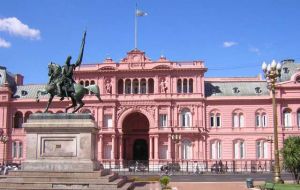 Argentina's current government presidential ticket for October's ballot, Daniel Scioli and Carlos Zannini has a solid lead of 18 points over its main competitor, the PRO party with hopefuls Mauricio Macri and Gabriela Michetti, according to the latest public opinion poll released by Aresco.
In Argentina's main and decisive electoral district the province of Buenos Aires, the government of president Cristina Fernandez was also running best with the two Victory Front (FpV) options taking a lead of more than 20 points over the list of the Cambiemos opposition coalition.
According to Aresco pollster, the Scioli-Zannini ticket was grabbing a commanding lead with 41.7% of the votes in the province of Buenos Aires, followed by the Macri-Michetti option getting 24%. In the third place, appears the Renewal Front (FR) of Sergio Massa with 16.8% of vote intention.
Compared against all three options running under the Cambiemos coalition – Mauricio Macri, Ernesto Sanz and Elisa Carrió -, the candidates of the ruling FpV take a lead of 13 points.
Trends were also helping power Daniel Scioli and Carlos Zannini into the Pink House securing a victory in the first run with 44% of vote intention.
Meanwhile, the two options competing to win the FpV nomination in the province of Buenos Aires – Aníbal Fernández and Martín Sabbatella, Julián Domínguez and Fernando Espinoza-, were numbering together 44.3% with 26.6% for Fernández-Sabbatella and 17.7% for Domínguez-Espinoza.
The Cambiemos coalition has María Eugenia Vidal of the PRO party rallying 24.6%. Third comes Felipe Solá of the UNA front with 19.7%.
The Aresco pollster surveyed 2,972 people by telephone in the province of Buenos Aires.
Under Argentine law president Cristina Fernandez can only be re-elected once, and will be completing two four year periods next December, 2007/2011 and 2011/2015. However she can try again in 2019.
For the presidential seat, the winning ticket in Argentina needs over 40% of valid ballots and a ten point difference over the runner up to avoid a runoff.