Argentina's incumbent ticket leads comfortably ahead of August primaries
Monday, July 27th 2015 - 06:30 UTC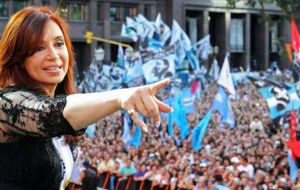 Argentina's Victory Front presidential ticket of Daniel Scioli and Carlos Zannini is set to win the coming August PASO primary elections by almost 12 points over nearest challenger Mauricio Macri, a new poll published two weeks before the vote has predicted.
According to the survey from the Centre of Public Opinion Studies (CEOP) and printed in Página 12 today, Buenos Aires governor Scioli and his running mate take over 38% of voting intentions. Macri and Gabriel Michetti, of the Cambiemos coalition, lie second with 26.6%.
Taking into account undecided voters and discarding blank votes, the Victory Front pair are projected to obtain up to 41% of valid ballots.
When Macri's Cambiemos primary rivals are included, however, the lead for Scioli-Zannini is somewhat slimmer. The radical candidate Ernesto Sanz is predicted to win 2.3% of the vote, with the Civic Coalition's Elisa Carrió on 1.6%. If those votes turn to Macri after the primary, the advantage for the FpV stands at 7.2%.
The Renewal Front's Sergio Massa, meanwhile, completes the podium on 12%, a figure which would allow the lawmaker to overcome primary rival José Manuel de la Sota (5.2%) to take the nomination for the UNA front. Fourth in the running for the August 9 vote is Progressive candidate Margarita Stolbizer, with 3.6%.
The poll was conducted using 1,500 households nationwide via telephone, respecting proportions for gender, age, socio-economic levels and residence.
In the same study President Cristina Fernández was found to have a positive image rating of 52%, while Macri's change in political discourse following the City election of last Sunday was also criticized.
Argentine presidential, legislative and regional elections are scheduled for next 25 October. If the winning candidate for president doesn't obtain 45% of valid ballots, or 40% and a ten points difference over his runner-up, a runoff is needed and is scheduled for 22 November.
Cristina Fernandez will be stepping down on 10 December after two consecutive four year mandates, and a previous one from her late husband Nestor Kirchner (2003/2007). She can run again in 2019.