Cristina Fernandez blasts media over Welsh celebrations in Patagonia
Tuesday, July 28th 2015 - 06:01 UTC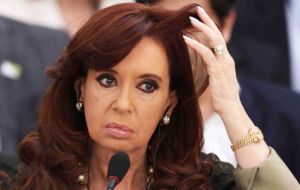 Suffering from a severe case of laryngitis which forced her to a 48 hours rest, Argentine president Cristina Fernandez nevertheless had time for a fight with the Buenos Aires media and welcome Wales First Minister Carwyn Jones who is in Argentina for the Welsh settlers in Patagonia celebrations.
"It is a real shame to not be with my Welsh and Chubut friends, and I wish the first minister of Wales a warm welcome to this land of integration and dialogue."
The president hit out on Monday against claims published in Buenos Aires dailies Clarin and La Nacion that she had asked for the 150th anniversary of the Welsh arrival in Patagonia to be moved forward, while calling the newspapers a "factory of lies".
The head of state assured that she missed Monday's ceremony in Chubut on doctors' recommendations due to a bout of laryngitis. She also dismissed the allegations printed by the newspapers that Chubut province governor Martín Buzzi had been asked to bring the celebrations forward by a day.
"The factory of lies of Clarin, La Nacion Corp. is open 24 hours a day, 365 days a year. They have minor branches. What are you talking about CFK? Talking, right now I am not talking. I have acute laryngitis," she fired via Twitter.
"What has Clarin made up this time? I asked the governor to move the celebrations forward. It is as if I asked the Mendoza governor to move up the Vendimia Party (grape harvest).
Cristina Fernandez also refuted claims that she had asked for the Puerto Madryn mayor not to meet her at the local airport; that the mayor be barred from speaking at the event and that her security would check any gift given to her.
The president focused on page 11 of the daily, where it said that the president had requested the roads be cleared of people as she made her way from the airport to the ceremony.
"Can anyone with common sense believe a president is going to ban a mayor from greeting them in their city? Security, for me who loves to climb the fences to meet everyone? Did you not see the people who greet me with rosaries and gifts for (grandson) Néstor Iván and for me?" she pondered.