Positive signals from Argentina's economy ahead of October's election
Wednesday, July 29th 2015 - 06:30 UTC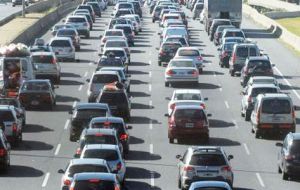 Industrial production in Argentina fell 0.8% in June compared to the same period last year, according to the country's National Statistics and Census Institute (INDEC), marking the 23rd consecutive month that the sector has contracted. However with seasonally adjusted figures, Indec's data showed a 0.9% rise, the first positive advance in two years (July 2013).
A rebound in the auto industry which picked up 6.8% was a crucial element in the upturn. The government quoted figures from the ADEFA automobile association showing sales both at home and abroad had risen.
Economists said domestic demand for cars was likely bolstered by strong wage hikes that, together with government incentives to spend, are improving consumer confidence. Leading firms operating in Argentina include General Motors , Ford Motor Co, Honda Motor Co Ltd, Toyota Motor Corp, Volkswagen AG, Peugeot SA and Renault SA.
Apparently there was also an easing of the myriad state controls introduced three years ago to stem capital flight.
The industrial output figures came hot on the heels of official data showing Argentine economic activity expanding at the fastest rate in 17 months in May as President Cristina Fernandez steps up spending ahead of elections in October.
The information released by Indec differs from estimates published by private consultancies. The FIEL Foundation had recorded a 3% growth in industrial activity compared to June 2014 with the trend predicted to continue in the third quarter, according to the firm's monthly report.
A publication from the Orlando Ferreres Economic Studies Centre also showed a rise in industrial production, rising 0.8% in June of this year.
Meanwhile Cabinet Chief Anibal Fernández said the government had the "obligation" to watch closely the economic situation in China and Brazil to prevent "impacts" in Argentina. They are the country's main trade partners and China a financial pillar for Argentina which is barred from world money markets.
"No good administrator can leave aside these situations. It is an obligation because the world is global and there are situations that can impact our own economies," the head of ministers told reporters Tuesday morning during his daily contact with the press at the government house.
"These are countries that buy products from us," Fernandez pointed out when queried about the fall in the Shanghai stock market and the Brazil's Real reaching a 12-year low.
According to the cabinet chief, the Cristina Fernandez administration has not ruled out taking "anti-cyclical measures" to avoid companies dealing with an "immediate impact" and "firing staff," recalling the 2008-2009 scenario when the government made decisions to "protect" the real economy facing the Lehman Brothers crisis in the United States.