Argentine swimmers planning to cross Falkland Sound next March
Thursday, August 6th 2015 - 04:47 UTC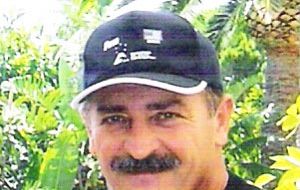 Four professional swimmers from Mar del Plata, Argentina have announced they are preparing for a great challenge: next March they plan to cross the Falkland Sound joining West and East Falklands. Diego Piccardo, Martín Sánchez, Adrián Echeverría and Guido Ganín are training with professor Andrés Rosso under the supervision of the several times open sea champion Claudio Plitt.
According to the plan announced and reported in the local media, the swimmers will remain a week in the Islands waiting for the right moment for the crossing. It is estimated that in March the sea temperature will be in the range of 7 degrees Celsius. However the group will be needing special gear, a full wetsuit to join Fanning Head with Chancho Point.
Meantime in Mar del Plata taking advantage of the winter months the group is training in what they believe are similar conditions, with neoprene surfing suits, which nevertheless are not the most flexible for swimming.
One of the masterminds behind the challenge is a former Malvinas veteran and currently sports professor in Mar del Plata, Julio Aro. With his foundation "Don't forget me", Aro advises athletes regarding the terrain and water conditions, and also with the formalities to comply with before the Falklands' government.
The crossing has the purpose of promoting the DNA-project from the Aro Foundation, for the identification of the 123 Argentine combatants fallen during the 1982 conflict, buried in the Argentine cemetery at Darwin, but whose remains still have no names.
Advisor Plitt is no stranger to the Falklands; he was in the Islands back in 2008 when an Argentine open sea swimmer, Maria Ines Mattos tried unsuccessfully to complete the six kilometers between West and East Falkland. Apparently on that occasion sea conditions, following a three hour attempt impeded the swimmer from completing the crossing.
According to his biography, Plitt was open waters swimmer world champion in 1979, 1980, 1981 and 1986. He also figures in Fort Lauderdale Hall of Fame and in 1986, 87 and 88 won the Lake Saint Jean competition in Canada.
By 1990, when he retired, Plitt had participated in 160 international competitions averaging 8 to 9 hours in open waters, and establishing a record in the international field of this specialty.