Trump dominates the Republican race for US president following the debate among ten contenders
Friday, August 7th 2015 - 07:18 UTC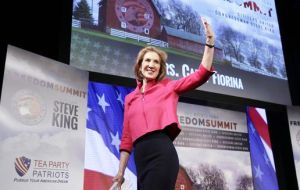 Donald Trump continued to dominate the Republican race for US president by causing further controversies in the first debate. The tycoon's refusal to rule out a third-party run drew boos from the audience on Thursday night. And he stood by offensive comments he has made in the past about women.
The 10 candidates in Cleveland, selected by Fox News on the basis of recent national polls, provided a frank and bruising exchange of views.
- Republican debate as it happened
Key moments included:
- "I don't have time for total political correctness," said Mr Trump
- Rand Paul attacked by Chris Christie for calling on surveillance curbs
- all candidates condemned nuclear deal with Iran
- Jeb Bush forced to defend his support for Common Core education
- Mike Huckabee to abolish the inland revenue service and department of education
- join Isis and you sign your death warrant, said Ted Cruz
- Mr Trump stumbled somewhat on his past support for a national healthcare system
- earlier, Carly Fiorina mocked Mr Trump's links to the Clintons in a separate debate
On Thursday, the Democratic Party announced they will hold their first debate in Nevada in October, hosted by CNN.
The Republican top 10
- businessman Donald Trump
- former Florida Governor Jeb Bush
- Wisconsin Governor Scott Walker
- former Arkansas Governor Mike Huckabee
- surgeon Ben Carson
- Texas Senator Ted Cruz
- Florida Senator Marco Rubio
- Kentucky Senator Rand Paul
- Ohio Governor John Kasich
- New Jersey Governor Chris Christie
The format, which narrowed the field of 17 contenders to 10, has been criticised by some as unfair. Former Pennsylvania Senator Rick Santorum reacted angrily to his omission. He and the six other remaining candidates took part in an earlier debate that featured several attacks on Mr Trump.
Former Texas Governor Rick Perry said he was running a campaign based on celebrity, while former Hewlett-Packard CEO Carly Fiorina mocked him over his Clinton ties.
Influential figures at Fox News, including presenters Chris Wallace and Bill O'Reilly, declared Ms Fiorina the winner.
Former senator Rick Santorum called the Supreme Court's decision on same-sex marriage a "rogue" decision, comparing it to another ruling, Dred Scott, which said African Americans were not citizens, and was later overturned.
Ms Fiorina, the only female in the race, also slammed Democratic candidate Hillary Clinton. "She lies about Benghazi, she lies about emails and she supports funding Planned Parenthood," she said.