Argentina will service 3.5bn dollars maturing next October with bank reserves
Tuesday, August 11th 2015 - 07:14 UTC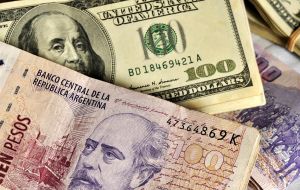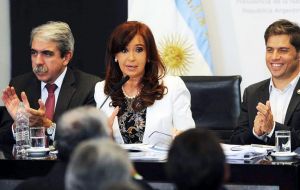 Argentina confirmed it will be using Central Bank foreign-currency reserves to service more than US$3.5 billion dollars in international debt that matures in October. The confirmation came through an announcement in the Official Gazette, signed by President Cristina Fernández, Cabinet Chief Anibal Fernández and Economy Minister Axel Kicillof.
Argentina's central bank reserves totaled US$33.8 billion at the end of last week, and are being protected through stringent restrictions on foreign-currency purchases. The Argentine government has used Central Bank's reserves to service debt for years.
According to the resolution the Central bank will transfer to the Argentine Treasury in one or several operations, the needed amount of over 3.55bn dollars and in exchange will receive 10-year debt instruments from the Treasury. Interest rate will be similar to that paid for the bank's reserves with a maximum set by the Libor rate minus one percentage point. Payments will be every six months.
In support of the resolution the government of President Cristina Fernandez argues that "a process of foreign debt reduction" is taking place which is reflected in the cancelling of all capital and interest liabilities with international money organizations in fiscal years: 2010, 2011, 2012, 2013 and 2014, which was done with 'free disposable' reserves.
This policy has been efficient in cutting public indebtedness costs in the framework of the "autonomous decision-making national economic policy"
Thus, it is considered pertinent to cancel debt service with international financial organizations and with bilateral foreign debt maturing in the current year by appealing to the free disposable reserves.