Mercosur's Paraguay meeting to iron out proposal to present to Europe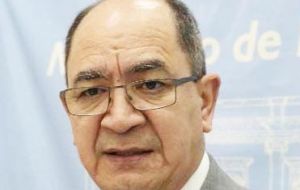 Technical teams from Mercosur country members are scheduled to meet next Tuesday in Paraguay to iron out the final proposal to be presented by the group to the European Union for the long delayed trade and cooperation agreement. The meeting in Asunción will be headed by Rigoberto Gauto, who is currently the Mercosur coordinator since Paraguay holds this half year the rotating chair.
Sources in Asuncion said Paraguay is intent in making sure the negotiations with the EU culminate successfully so that the trade agreement discussions which were started back in 1999 can advance into the crucial chapter of tariff reductions' proposals exchange.
Paraguay and Uruguay, together with Brazil have given their full political support so that negotiations can mature before the end of the year, with the exchange of proposals which will open the final leg of the much ambitioned trade accord.
Last June/July Mercosur (despite Argentina) and the EU agreed to have their respective proposals ready to be exchanged in the last quarter of the year.
In related news, the Argentine Chamber of Commerce released Mercosur intra-group trade figures for the first quarter of the year, and they are not encouraging, since exports dropped 20.3%, for the fifth running fall.
The poor showing is the result of simultaneous drops in intra-zone sales by all members: Argentina, down 24.9%; Brazil, 13.7%; Paraguay, 12.5%; Uruguay, 32.6% and Venezuela, 46.3%, according to the report.
Furthermore total exports from Mercosur (both to other block members and third parties) suffered a reduction of 13.5% (excluding Venezuela since no stats were available). Argentina's total exports during the first quarter dropped 15.8%; Brazil's 13.5%; Uruguay's 12.3% and Paraguay's 4.9%.
The Argentine Chamber of Commerce also pointed out that since the fall in intra-zone exports was greater than that of total sales, the participation of Mercosur in the overall trade of the group's members was down to 17.1% compared to 18.2% from the first quarter a year ago.
"The stats show thus that a trade block which is about to celebrate 25 years, faces an intra-zone situation in which intra-zone trade is losing increasing relevance, if this tendency is to be continue", warned the chamber.