Argentina: July inflation 1.92% and 27.15% annually says Congressional index
Friday, August 14th 2015 - 09:44 UTC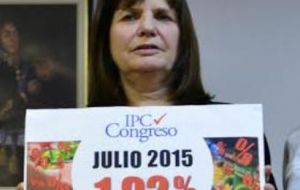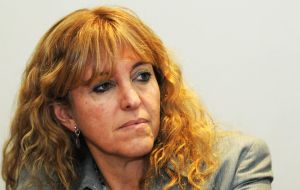 Argentina's July inflation for the private financial consultants climbed 1.92% and in the last twelve months reached 27.15%, according to the report released in Congress by opposition lawmakers. The so called 'congress index' is an average of the different private consultants which is released monthly by lawmakers to avoid fines and reprisals from government.
The announcement on Thursday was done by Patricia Bullrich, who belongs to the conservative PRO party and two members from the Radical party, Patricia Gimenez and Patricia De Ferrari.
July inflation was higher than June's 1.53% and is just below the 2% reported earlier this week by the City of Buenos Aires government stats office.
"It is clear that contrary to government's efforts to hide reality, the inflation index continues to climb", said Bullrich, who added that her party PRO is well aware that "fighting inflation" and making the official stats office Indec 'reliable and trustworthy' will be one of the main tasks following October's election.
Lawmaker Gimenez said that midterm holidays pushed the inflation index during July particularly in items such as: "food, medicines, cigarettes and transport". She added that in the next release in August, there will also be an ascending impact because of the recent increase in fuel prices.
Gimenez pointed out that there is nothing in government policy that indicates an intention or effort to lower inflation, "which needs mending now and people can't wait until 10 December (when the next government takes office)".
Likewise De Ferrari underlined that despite all the camouflage, "the government is well aware of what true inflation is, since all labor salary agreements reached were in the range of 30%".
"The policy of printing money with no backing or control, plus the increase in taxes and levies has proved it is a complete failure", concluded De Ferrari.