Falklands time capsule to commemorate 250th anniversary of Union Flag raised in the Islands
Saturday, August 15th 2015 - 08:04 UTC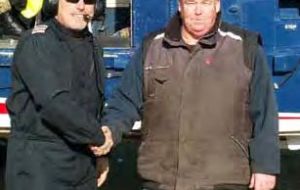 A time capsule commemorating the 250th birthday of the Union Flag being raised at Port Egmont in the Falkland Islands was delivered to Saunders Island last week.
The anniversary took place in January and since then organizer of the January events, Taff Davies, has been gathering together a variety of items representing Falklands life today, to place in the time capsule.
On August 8 the time capsule was flown in by helicopter and handed over to David and Suzan Pole-Evans on Saunders Island (where Port Egmont is situated) by helicopter pilot, former Royal Marine and RMA Chair Martin Elstow.
This seemed particularly appropriate as a garrison of marines were amongst the first settlers. One is still buried there.
Mr. Davies said once he has received the GPS co-ordinates of the exact burial place of the capsule from Mrs. Pole-Evans these will be logged in the Falklands and also in a couple of universities in the UK. (Penguin News).