Gibraltar to become 'turnaround' cruise port for London based Noble Caledonia
Saturday, August 15th 2015 - 03:15 UTC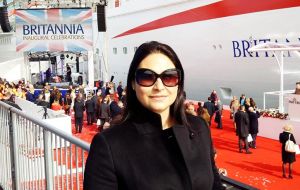 London-based cruise company, Noble Caledonia, has announced the inclusion of Gibraltar as the turnaround port for two of its 2016 itineraries in the area. The news has been welcomed by the Rock's government which said this represented a major breakthrough achieved after years of negotiations by the cruise company's local agent MH Bland with the support of the Gibraltar Tourist Board.
Gibraltar will feature in two of the ship's voyages in October and November 2016. Tourism Minister Samantha Sacramento described the news as an exciting development for Gibraltar's cruise and tourist industry and noted "the extra economic benefits that would accrue from the additional presence of tourists at visitor attractions, Main Street and other retail outlets and restaurants."
It was, she said, thanks to the efforts of the government that "Gibraltar has become a successful, internationally-recognized maritime hub of excellence. We have also been very supportive of the Gibraltar cruise industry and we are beginning to reap the fruits of our hard work."
Ms Sacramento believes that Noble Caledonia's initiative represents a great step forward and was further evidence that the global cruise industry has complete confidence in Gibraltar's role as a leading port of call in the western Mediterranean.
"I am confident this will trigger further interest from other cruise operators to follow Noble Caledonia's example and that Gibraltar's position as cruise port and turnaround port will be further enhanced in the not too distant future."
The 'Morocco Bound and Beyond' tour takes in coastal Morocco and the Canary Islands from 2–14 November 2016. On arrival at the Gibraltar airport by a scheduled flight from London, passengers will transfer to the MS Serenissima.
Passengers will board the vessel on the first day and spend a full day on the following day visiting the Rock's main tourist attractions, before continuing the journey to Casablanca on day three.
Gibraltar will also feature in the 'Caliphs and Kings' themed cruise which will explore the architecture and art of Islamic Spain from 25 October–2 November 2016.
After boarding in Seville, the cruise ship is scheduled to sail to Malaga and Motril and then on to Gibraltar, where holiday-makers will disembark for a complete day to be spent exploring local visitor attractions, including a lecture on the Rock's history.
The final stage of the cruise is the transfer to the Gibraltar airport for the scheduled return flight to London. This is the first 'turnaround' in Gibraltar for many years, a 'turnaround' being the term used when a cruise commences or finishes at a destination. Gibraltar has the modern facilities at the cruise terminal to cope with turnaround business, something the government of Gibraltar has keenly pursued, in addition to normal port-of-call operations.
The move by Noble Caledonia will provide further opportunities for the port of Gibraltar in terms of bunkering, stores, crew changes etc.