Massive protest turnout on Sunday could decide Brazilian president's future
Saturday, August 15th 2015 - 07:27 UTC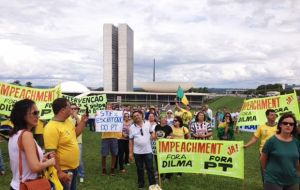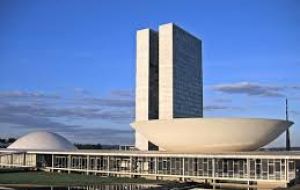 Hundreds of thousands of angry of citizens are expected to take to the streets of more than 114 Brazilian cities on Sunday as allegations of corruption and incompetence swamp the government, and plummeting commodity prices sap its economy, posing a key test for President Dilma Rousseff.
This will be the year's third mass protest against Rousseff, who is facing growing calls for her impeachment. A strong showing could help support her ouster.
The Free Brazil Movement, one of the groups organising the demonstrations, says rallies are confirmed in at least 114 cities. Congress is watching the turnout both to judge the support for impeachment proceedings and to measure the level of discontent in their home districts.
"Representatives in the lower house are paying close attention to the protests on Sunday to see if they have a national impact," said Leonardo Picciani the leader of the Democratic Movement Party in the lower house, which remains in uneasy alliance with president Rousseff's Workers' Party.
Picciani's PMDB party has the largest representation in Congress. Speaker Eduardo Cunha declared his personal opposition to the government after he was accused of soliciting and accepting a $6.8 million bribe, which he denied. While his party has not formally broken from the Workers' Party, some of its representatives say they'll vote for impeachment, an aim shared by large segments of the population.
But Brazilians are divided. Women farmers marched through Brazil's capital on Wednesday in a show of support for Ms Rousseff. The "March of the Daisies" organised by groups linked to Rousseff's Workers Party, attracted about 35,000 farmers to Brasilia's downtown area, according to official estimates.
Opinion polls show seven out of 10 Brazilians want Ms Rousseff to be impeached, holding her responsible the downturn in Latin America's largest economy and a massive corruption scandal at state-run oil company Petrobras.