Uruguay says Brazil rejects idea of leaving Mercosur, but agrees that deep changes are urgent
Saturday, August 15th 2015 - 08:50 UTC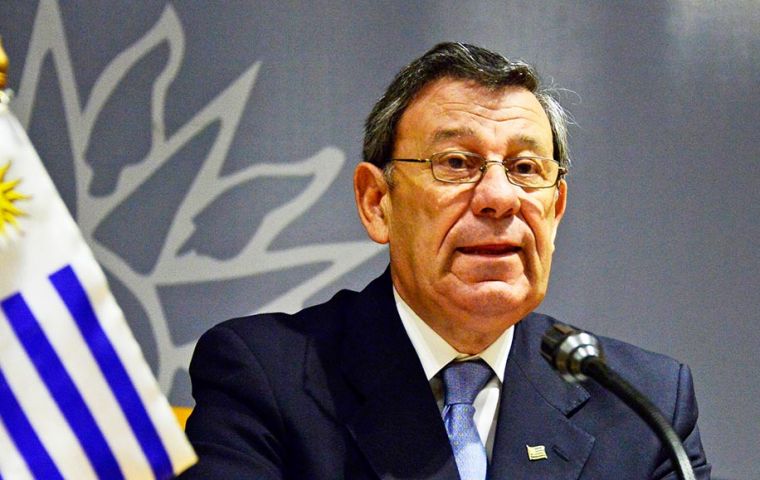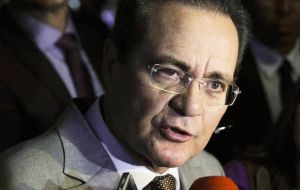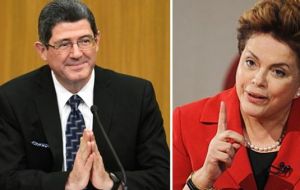 Uruguay's foreign minister said on Friday that "nobody" supports the proposal from the Brazilian Senate president Renan Calheiros to put an end to the Mercosur customs union. However he did point out that he proposal exposed that the block effectively is 'not working' and needs to have its foundations reviewed.
Nin Novoa said that on Thursday when hearing about Senator Calheiros proposal he contacted Brazilian foreign minister Mauro Vieira, and later his peers from Argentina and Paraguay, Hector Timerman and Eladio Loizaga.
"First of all I talked with Vieira. He told me it was a proposal from a Senator, not any Senator but the president of the Senate and his initiative was in the framework of 'Agenda Brazil' which contains several ideas about how to pull out Brazil from its current situation", said Nin Novoa.
"That specific proposal has fallen through; it has been rejected, nobody carries it, nobody supports it. Obviously it came to an end in Brazil itself" pointed out the Uruguayan minister in Montevideo talking with the local media.
On Thursday Calheiros presented his "Agenda Brazil" proposal which includes finishing the customs union of Mercosur to facilitate country members (Argentina, Brazil, Paraguay, Uruguay and Venezuela) to negotiate trade agreements individually without the need to have the consensus (or suffer veto) from the whole group. The suggestion together with other ideas were presented to Finance minister Joaquim Levy, and next week will be reaching president Dilma Rousseff's desk.
The first reaction from Planalto sources to the 'Agenda Brazil' was positive and 'welcomed by president Rousseff", but have yet to the fully assessed.
Nin Novoa admitted that Mercosur as such is "punctured in all sides: in some things we benefit, such as a common external tariff, but in others it is desperately harmful".
The Uruguayan minister went on to say that Mercosur is not working, needs 'more transparency and sincerity' in the integration process, both politically and in trade terms since "we are living in a world of great trade agreements and free trade accords of which Mercosur is absent" and furthermore "we are absent from such major trade enterprises such as those prevailing in East Asia, the Transpacific and even the Atlantic".
"And we must be there, because we are the suppliers of the food that the world needs. We even have to pay 670m dollars to have access to those markets and our main competitors have avoided this with trade agreements".
Thus, "I believe that Senator Calheiros proposal has a positive side and that is that it has put the issue back on the table in the middle of a great coverage, which is Mercosur is not working. And I'm glad this has happened because it again underlines our proposal, from Uruguay and Paraguay, which is to remove, to shake the foundations of Mercosur workings, not its objectives and goals which we all support", admitted Nin Novoa.
However the minister recalled that next week Mercosur standing representatives will be meeting in Paraguay to address the issues of tariff and non-tariff barriers; equivalent measures and the basket of goods and services which the group is expected to present and exchange with the European union towards the end of the year to begin the final leg of negotiations for a free trade accord
From the very beginning in 1991, the purpose of Mercosur was a customs union, but 25 years later nothing has been achieved because of the tariffs (and non tariffs) that persist among Mercosur members.
Brazil in the midst of recession, loss of jobs and falling exports is anxious for a trade agreement with the EU, but there is a consensus clause in Mercosur which must be enforced if any of the members wishes to sign a unilateral agreement with a third party. Argentina with its current non orthodox approach to economics, argues that privileging domestic market and jobs is paramount, and is reluctant to open to other more competitive areas.
Nevertheless, the Itamaraty official site makes no mention of the Calheiros proposals and since it is essentially a domestic policy affair, not much more can be added until the head of the Senate finally meets face to face with president Dilma Rousseff. Foreign minister Vieira does not make policy, he implements policy decided by the Planalto.