Falklands' Humpback exploration well results delayed until September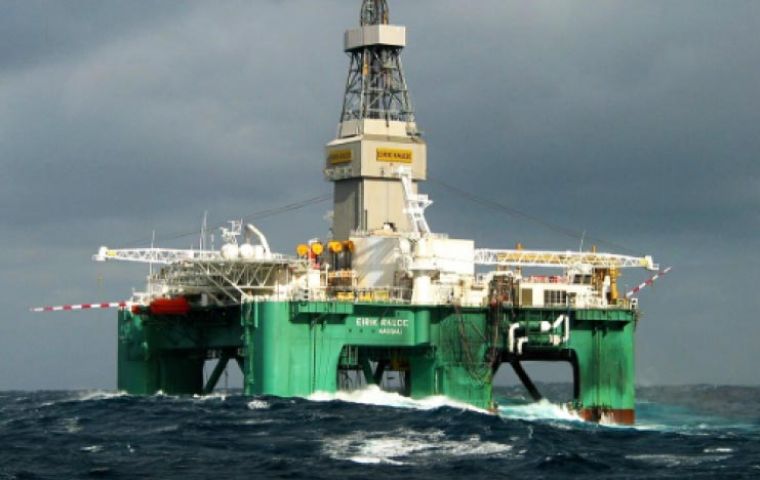 Falkland Oil & Gas Ltd told investors that drilling of the deep water Humpback exploration well in South Falkland basin has run into delays. They were described as 'unforeseen equipment and operational issues' and it has added just over a month to the schedule – to about 100 days from 65 planned days – so the well results are now expected during September.
A proportion of the additional costs are expected to be borne by partner Noble Energy, under a commercial arrangement that is currently being negotiated, FOGL said.
The company in its interim mid year results statement revealed that plans for the next well in the North Falkland basin are being reassessed. Rather than drilling the initially planned Jayne East well, an alternative well to follow up at Isobel Deep is currently being considered.
Isobel Deep, the second well in the program so far, made a potentially significant oil discovery which could 'open up a new play', however, it was not possible to run logs or garner much further analysis due to technical difficulties and high pressures.
FOGL chairman John Martin described the first six months of 2015 "as a highly successful period which saw significant exploration success for the Company and I am delighted to have joined the Board as Non-Executive Chairman at this exciting time.
"In the North Falkland Basin, FOGL has announced two material oil and gas discoveries. The Zebedee well was an excellent result and one that adds to the proven hydrocarbon resources of the licence and confirms the extension of the Sea Lion discovery and associated reservoirs into PL004b. The Isobel Deep oil discovery opens a new play area with upside potential.
"Drilling on the Humpback prospect in the South Falkland basin is currently on-going and we look forward to receiving and sharing the results of this well following completion of the drilling operations."
"With two successes under our belt already and two more wells to complete, the Board looks to the future with confidence".
FOGL cash balance for the six months ended 30 June 2015 was reported at 40.1 million dollars.