Brazil economy to contract 2.06% and 0.24% next year, says Central bank survey
Wednesday, August 26th 2015 - 06:46 UTC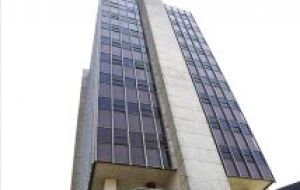 Analysts expect Brazil's economy to contract by 2.06% this year, with the inflation rate coming in at 9.29%, the Central Bank said Monday. GDP estimates come from the Boletin Focus, a weekly Central Bank survey of analysts from about 100 private financial institutions on the state of the national economy.
The analysts now expect the economic contraction in 2016 to be slightly worse than in their previous forecast, with GDP falling by 0.24%.
In the previous survey, analysts said they expected the economy to contract by 0.15% next year.
Analysts said in the previous survey that the economy would contract by 2.01% this year, which would be the worst performance since 1990, when the country's GDP dropped by 4.35%.
Analysts trimmed their inflation outlook for this year modestly from 9.32% last week to 9.29% in the latest survey.
The government still expects inflation to end the year within its target range of 4.5%, with a 2% band that would put the top end rate at 6.5%. If the forecasts prove accurate, Brazil would post its highest inflation rate since 2002, when the consumer price index rose 12.53%.-