Prime beef for Uruguay's national rugby team Los Teros during the World Cup
Monday, September 7th 2015 - 17:57 UTC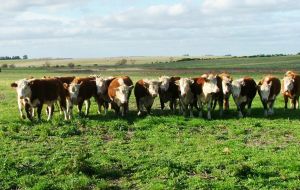 Uruguay's national rugby team Los Teros which will be participating in World Cup in England later this year, will be provided with Uruguay's world-class prime beef to be supplied by the National Meat Institute of Uruguay, INAC.
INAC has a long established policy of supporting Uruguay's national football teams with prime beef, and this time has decided to make that support extensive to Los Teros, which is the only amateur team participating at the 2015 Rugby World Cup.
Uruguayan beef is worldwide brand renowned for its superb quality and perfect sanitary status, based on cattle fed mainly on natural grassland and a country where growth promotion hormones and antibiotics is strictly banned. Organic grass feeding leads to a high proportion of Omega 3 fats (healthy good fats) in the meat.
These natural qualities allowed Uruguay to become a historic and traditional supplier to the United Kingdom.

The Uruguayan traditional dish is a rib plate cut called, 'Asado', which is barbecued, using firewood.
Embers are placed around the meat and vegetables, such as foil wrapped potatoes, glazed sweet potatoes, onions and peppers are barbecued with simultaneously. Uruguayan people keep their seasoning simple, just adding a little salt while cooking.