Lula da Silva pictured with the Pope's Malvinas-dialogue poster
Thursday, September 10th 2015 - 06:32 UTC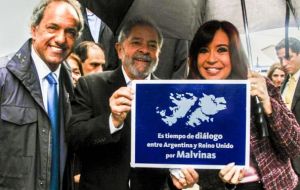 Brazil's former president Lula da Silva was pictured holding Pope Francis' poster calling for dialogue in the 'Malvinas issue'.
Lula da Silva, despite all the corruption charges his closest aides and party are facing in Brazil, spent time on Wednesday in Argentina campaigning for Daniel Scioli, the presidential candidate chosen by Cristina Fernandez to succeed her in the coming October election.
"It's time for dialogue on Malvinas, between Argentina and United Kingdom" read the poster, similar to the one a few weeks ago Francis showed in St Peter's square, and which his spokesperson, Pinocchio, later said it was one of many gifts the holy father recevies and that the Argentine born pope was 'unaware' of what he was holding.
However later the man involved in the Malvinas campaign incidetn, Gustavo Hoyo revealed that the Pope was well aware of what the poster said, and even encouraged him to continue with the initiative.
The latest picture shows Lula da Silva next to Cristina Fernández and Daniel Scioli holding the poster, following a political rally in the town of Jose C Paz.