Cristina Fernandez wants Argentina in BRICS and asks Lula da Silva to act as the lobbyist
Friday, September 11th 2015 - 09:33 UTC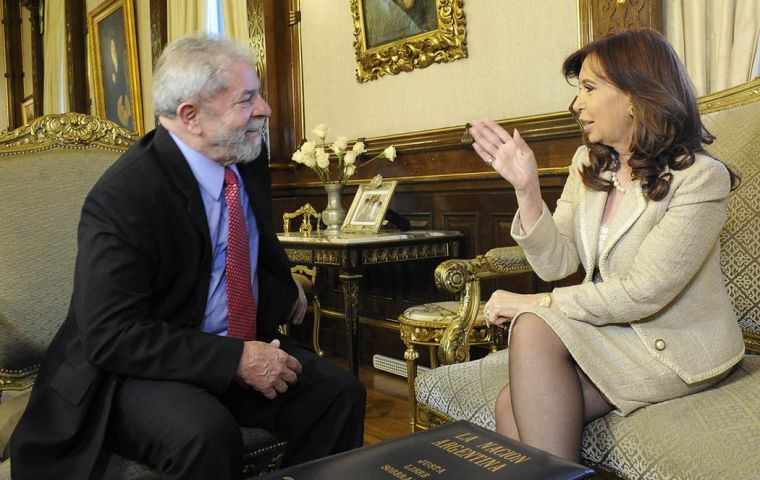 President Cristina Fernández called on Brazil's former president Lula da Silva to become Argentina's "ambassador" to help it join the group of emerging countries known as BRICS, acronym for Brazil, Russia, India, China and South Africa. Lula is currently campaigning in support of incumbent presidential candidate Daniel Scioli, and the so called 'Kirchner' model that 'transformed Argentina'.
"Lula, you have to be the ambassador for Argentina to join BRICS and for it to no longer be BRICS but rather BRICSA," the Argentine president said. "That is our place and more emerging countries would then join the BRICSA."
The BRICS account for a fifth of the world's economic output and 40% of its population. Cristina Fernandez spoke of her continuing desire to join the BRICS countries as she called on Victory Front (FpV) presidential candidate Scioli to continue focusing on the integration of Latin American countries if he wins the election in October.
"Daniel, we will have to deepen our integration with the Latin American region because that is our place and our destiny," Cristina Fernandez said at a rally.
The president also indicated that she didn't want "anybody to come and say the northern countries should be an example, those countries that expel immigrants and leave kids to die on their beaches." Argentina is "a country of immigrants and I don't want to look like those who let people die in the hold of boats".
Cristina Fernandez credited the former Brazilian president, and her late husband, former president Néstor Kirchner, with "inaugurating an unprecedented era in the history of relations between Brazil and Argentina."
That changed the paradigm that used to exist because the powerful "always wanted us to confront each other, and it wasn't a coincidence because they needed Argentina and Brazil to be separated and divided."