Falklands: "thank you" to the people of Uruguay for being so warm, welcoming and supportive
Saturday, September 19th 2015 - 06:44 UTC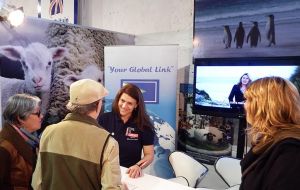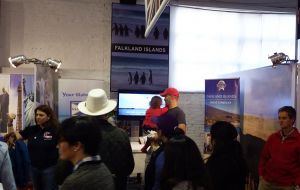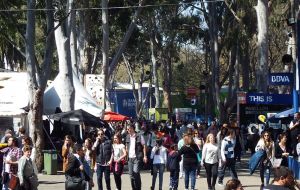 A business delegation from the Falkland Islands participated in Uruguay's main agri-business show at the Prado grounds with a stall in the British GREAT pavilion. The week attendance was described as 'surprising and successful' and Falklands lawmaker Gavin Short addressed an open letter thanking all those involved in helping with the Islands' presence.
Alas the time is almost upon us for the Falklands team to say goodbye both to Expo Prado and the people of Uruguay and the many friends that we have made and people we have met. We are leaving not because we have been told to but because as we only have one flight a week from South America into the Falklands we either leave now or have to stay another week.
I suspect most of us would very happily stay another week but our various employers, husbands and wives may not be as enthusiastic as we would be to for us to spend another week in this wonderful country. This is the first time that the Falklands has officially had a delegation and stand at the Expo Prado although farmers and businessmen have visited the show in the past and to be truthful we didn't quite know what to expect.
I spent the first two days of my visit manning the stall on my own and was overjoyed when John Ferguson, our meat production company manager arrived here on Friday afternoon and could help on the stand on Saturday and Sunday until the rest of our team could arrive as at times we were besieged by people eager to talk and find out more about us, especially how they could visit the Falklands, what type of sheep and cattle we ran, the genetics of livestock etc.
I have been totally blown away by the amount of people who have (and still continue) to visit the Falklands stand. We have renewed old friendships, made new ones, talked with suppliers and hopefully some of the talks will result in even greater commerce between the Falklands and Uruguay than already exists.
People were genuinely interested in the Falklands, wanted to know about us, our way of life etc. and a huge amount of them already knew a fair bit about our country, especially the older generations who remembered with great fondness the days when the RMS Darwin, our only link with the outside world used to bring passengers up to "Monte" plus freight etc and return with other passengers and goods for us. Of course it was not only freight, it also brought people needing medical care and school children who attended the British school here in Uruguay and we have had many people visit the stand who were at school with Falkland Islanders.
We came here to Uruguay with the hope of re-establishing those links, to reinforce the commerce between our two countries and I think we have made a small but significant step towards doing that.
To re-cap: despite putting in 12 hour days on the stand talking to huge amounts of people, it didn't seem like twelve hours, it didn't seem like work. Everyone who came to the stand (even those who may not have agreed with us) we so interested, so friendly and warm towards us that it was a real pleasure to be there and the hours just flew by.
I would like to thank the organizers of Prado for allowing us to come and exhibit and who, despite some pressures and the occasional sideshow from one or two folks/country who were unhappy with the Falklands presence, stuck to their guns and allowed us to stay. Thanks to the British Embassy for allowing us to have a corner of their shed and to the crew at the pavilion, they were a great bunch of people who went out of their way to be friendly and helpful. I feel sadness that due to an unrelated incident, I could not get back to the Prado to say goodbye in person to each and every one of them.
However my biggest "thank you" must go the people of Uruguay themselves for being so warm and welcoming, so interested in the Falklands and being so supportive. It is my fervent hope that we can return next year to Expo Prado and my fervent belief that we have taken small but significant steps in once again re-establishing those links that we used to have, strengthening already existing commercial ties and opening the way for future trade. To each and every one of you, on behalf of all of us in the Falklands team, I say, from the bottom of my heart "thank you".