Former treasurer of Brazil's ruling party sentenced to 15 years in prison over Petrobras corruption
Tuesday, September 22nd 2015 - 07:53 UTC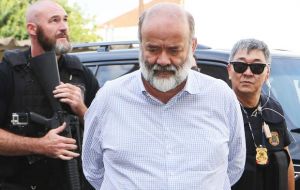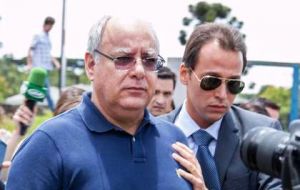 The former treasurer of Brazil's ruling party was sentenced Monday to more than 15 years in prison for his role in a massive corruption scandal at state oil giant Petrobras. The judge investigating the scandal found Joao Vaccari, who was the Workers Party treasurer until April, guilty of "corruption, money-laundering and conspiracy," and sentenced him to 15 years and four months.
Vaccari was accused of receiving bribes from Petrobras contractors and distributing them to members of the ruling party.
"The crimes of corruption involved the Workers Party's receipt, with the accused intermediation, of at least 4.26 million Reals ($1.06 million) in bribes," the judge said in his ruling.
The verdict was in one of three cases that have been brought against Vaccari in the Petrobras scandal. He had been in preventive detention pending the verdict.
Also sentenced Monday was a former Petrobras director, Renato Duque, who was given a sentence of 20 years and eight months for taking bribes.
Contractors are alleged to have paid off certain Petrobras directors in return for inflated contracts, which they divided up among themselves. Some of the kickbacks were alleged to have been paid to prominent politicians, most of them members of President Dilma Rousseff's governing center-left coalition in Congress.
Petrobras estimates it lost about $2 billion in the scheme, which ran from 2004 to 2014.
In detailing Vaccari's crimes, the judge said the bribes were laundered in an "especially sophisticated" manner. They were reported as legal campaign contributions, a subterfuge the judge said was largely unknown in Brazil until now.
The judge said that of greater concern than the illegal enrichment was the "contamination of the political world" and the damage done to the democratic political process.
The scandal has dealt a major blow to Rousseff, whose approval ratings have plummeted to 8%, just eight months after her re-election to a second four-year term. While Rousseff has not been personally implicated in the scandal, she was chair of the Petrobras board from 2003 to 2010.
The opposition is pressing for her impeachment, alleging she knew about the corruption and used illicit Petrobras funds to finance her 2014 re-election campaign, accusations Rousseff denies.
Other prominent Brazilians have landed behind bars, including executives of some of Brazil's biggest construction companies. One of those implicated was Jose Dirceu, the powerful former chief of staff of former president Lula da Silva.
Dirceu was found guilty in a previous corruption case, known as the Mensalao, which involved payments to members of Congress for their votes. Prosecutors allege that even after his conviction in that case he continued to receive payments from the diversion of funds from Petrobras.