Argentine squid catch this season was down 23% to 127.217 tons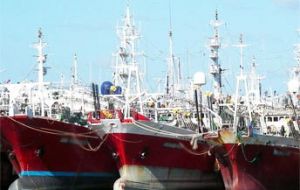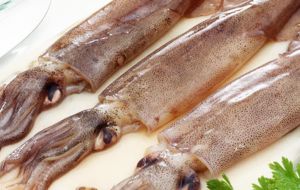 The squid season closed in Argentina with a total landing of 127,216.9 tons of Illex argentinus, representing an annual decline of 23% (38,005.6 tons), according to the latest stats published by the Under secretariat of Fisheries of the Nation. Last year the catch totaled 165.221 tons.
The official report states that "all fleets targeting the species Illex squid declined their catches in all areas and at all times".
The squid jigger fleet of 65 vessels (4 fewer than in 2014), landed 117,038 tons of squid, equivalent to 93.7% of the total. Most catches (98,048.7 tons) came from the area located south of latitude 44°.
Meanwhile, 115 trawlers unloaded 7,778 tons, 47.6% less than in 2014, when landings had totaled 14,842 tons. The drop occurred despite the fact that additional 21 vessels operated compared to last year.
Outside Argentine waters, it is estimated that in the adjacent area to the Argentine exclusive economic zone 'about 200 vessels operated and they may have caught between 330,000 and 400,000 tons', according to estimates of Inidep, reported Revista Puerto.
The official Argentine release also points out that the average price of squid is around $ 1,100 per ton this season, well below the $ 2,300 reached in 2012, when similar catches had been recorded.
The Argentine fishing groups complained that besides low catches, this season they also had to deal with much higher costs, creating uncertainty about future operations. (FIS).