Argentina remains 'reluctant' and has 'reserves' about a trade accord Mercosur/ Europe
Friday, September 25th 2015 - 07:26 UTC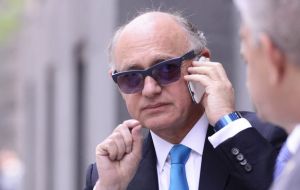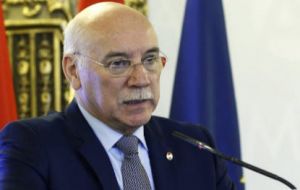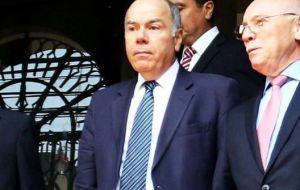 Mercosur foreign ministers meeting held this week in Paraguay to decide on the proposal to present the European Union for a trade agreement, apparently was not as "satisfactory" as announced because of Argentina's reluctance and 'reserves' about opening its market to the EU.
Diplomatic sources in Asunción said that the Argentine attitude, 'very defensive' during the talks was somehow confirmed when Hector Timerman abandonded the Paraguayan foreign ministry by a side door and the host Eladio Loizaga read a brief 'satisfaction' release and took no questions from the waiting media.
The meeting between Argentina's Timerman, Brazil's Mauro Vieira, Uruguay's Deputy minister Jose Luis Cancela, Paraguay's Loizaga and Brazil's minister of Industry and foreign trade Armando Monteiro, was called to discuss the Mercosur proposal of approximately 10.000 items which is to be presented and exchanged with EU trade experts on October first and 2 in Asunción.

Allegedly during the long meeting, Timerman adopted a defensive attitude since he insisted with Argentina's reluctance to open its market and had reserves about what the EU is willing to offer in its proposal to be exchanged in October.
Argentina has an official policy of privileging its domestic market for local industries and ensuring home jobs. Because of this Argentina has faced several demands at the World Trade Organization.
But Mercosur, particularly Brazil badly beaten by recession and falling exports, is most anxious to reach a trade accord with the EU, an accord that has been waiting for the last 16 years. The unofficial calendar is that once the October technical exchange of proposals, Mercosur and EU in November will move into the definitive and political leg of the negotiations, as was agreed earlier in the year.
Loizaga said there was "much expectations" about the coming round of talks with the EU, "it's the right moment, and the right chance to advance with negotiations that have been frozen for too long. I believe we have advanced enormously". This despite the fact that the proposal includes sensitive issues such as government appropriations and farm produce.
Paraguayan Deputy minister Rigoverto Gauto said that Mercosur must consider and analyze the EU (October) proposal and if 'effectively they include the minimum conditions demanded by Mercosur to begin negotiations", in November.
The October technical meeting is scheduled to take place in Asunción, and during two days Mercosur and EU will consider their respective proposals, and the following step if all works out as planned will be the November political meeting to iron out the terms for the much awaited trade accord.