Falklands clearance of Argentine mines takes off to a flying start
Friday, September 25th 2015 - 06:14 UTC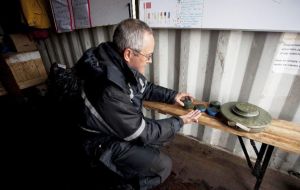 Falkland Islands de-mining and ground clearance work has got off to a flying start despite the cold and snowy weather of late, Program Manager Guy Marot confirmed on Thursday to the Penguin News.
Most of the work is concentrated in areas surrounding the capital Stanley which were planted 33 years ago by the retreating Argentine forces that invaded the Falklands in April 1982.
Phase 4B which involves work on five areas commenced just over ten days ago and minefield number 33 (opposite Pony's Pass) is expected to be completed this week.
Mr Marot said the Bactec (*) team was operating about four times faster than in 2010 when the project started and this was mainly due to techniques having improved as well as the understanding of how the mines have been laid.
"The Argentine records have been quite consistent throughout," he said.
Works by the Bactec team of de-miners are taking place in the area south of Sapper Hill near the water tanks, Pony's Pass as mentioned above, at Eliza Cove Bay near the rubbish tip, general area clearance on the south side of Wall Mountain and between Eliza Cove Road and the Mile Pond.
The latter area will open up the Common and provide further recreation areas near Stanley.
However Mr. Marot said it was proving to be a bit more challenging to unravel the documentation connected with the Eliza Cove/Mile Pond area as the original mines laid had been well recorded, but had then been reinforced later on.
This merited deeper and longer analysis than other minefields, he said, adding, "It's a challenge but there is no such thing as a minefield that can't be cleared".
In November a 10 day investigative project to assess the complexity of a clearance operation will take place at Yorke Bay.
Mr. Marot said there was a misconception in some areas that the bay was covered in mines, however according to documentation only small areas had been mined.
He said there was an element of excitement about investigating an area which was important to the community, adding that there was no quick fix clearance about to take place and that every effort would be made to make little impact on the environment.(PN).-
(*) BACTEC (Battle Area Clearance, Training, Equipment and Consultancy) Group of companies is comprised of a number of leading Explosive Ordnance Disposal, (EOD) Bomb Disposal, Mine Action companies operating worldwide from strategically located offices. The Group Head Quarters is located with BACTEC International Limited in the UK, with offices/branches located in Australia, Cambodia, Iraq, Lao PDR and Mozambique