Former president says "no way Uruguay can escape the impact of the Brazilian crisis"
Tuesday, September 29th 2015 - 06:28 UTC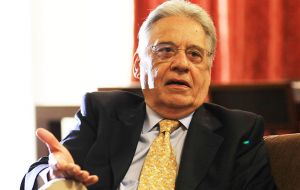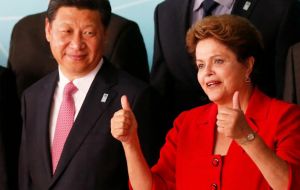 Brazilian former president Fernando Henrique Cardoso, (1995/2002) said that the serious economic situation faced by Brazil is very complex, will take time to overcome and most surely the impact will be felt in neighboring Uruguay, a country which must target other markets, other economic spaces.
"I can't see how Uruguay can escape the impact of the crisis in Brazil...Uruguay will have to find other markets because the Brazilian market will be quite complicated", said Cardoso during a seminar organized by a Uruguayan weekly to discuss prospects for the regional economy given the current world scenario.
Among those attending were former Uruguayan presidents Julio Maria Sanguinetti and Luis Alberto Lacalle, whom Cardoso defined as 'close friends'.
Uruguayan president Tabare Vazquez sent a letter expressing gratitude for the invitation but apologizing his absence since he is currently in New York for the annual United Nations General Assembly.
Cardoso also addressed the Mercosur situation arguing that "under the current conditions it is not working, it is far too cumbersome, it is suffocating us" by restricing members from negotiating trade agreements with other countries, and this he said, "puts at risks the advance in European Union/Mercosur discussions for a free trade accord".
"I don't believe that at this moment there is sufficient capacity and leeway for Mercosur to reach something positive with the EU, not that I don't want it to happen, on the contrary, but I can's see how" added the former Brazilian president, who also criticized the lack of Brazilian leadership.
"Brazil has become too submissive to ideological divisions and has accepted the active presence of Venezuela, which is a factor that has divided the region".
Cardoso then went on to analyze the political and economic performance of Brazil since 1998, to help explain the current situation and the role played by China in later years.
"China changed the world scenario beginning in 2004. Until 2007, China financed countries such as Brazil", and thanks to Beijing exuberance, then president Lula da Silva status rapidly changed for the business community from "Satan to God".
When asked about the part to be played by Lula da Silva, the political mentor of president Dilma Rousseff, and who has anticipated his return to active politics, Cardoso was quite caustic: he never abandoned active politics and his image has been tarnished by the succession of corruption scandals.
"Lula da Silva's prestige is way down in Sao Paulo...I don't think he will have, as in the past, the capacity to convene and move the masses".
However Cardoso proposed a new 'social pact' to address the current political and economic situation faced by the administration of president Rousseff, who has a support of less than 7%, helping the Brazilian currency to plunge almost 40% so far this year against the US dollar.
"But how Dilma is facing a confidence crisis, how can she pretend a real 'social pact' without credibility? She will have to turn in her post. And this so far is utopia", pointed out Cardoso. "I'm formally asking president Rousseff to show a gesture of greatness, otherwise this, as it is, won't stand much longer", said Cardoso.
"I think we are looking at two/three tough years ahead, but if there is a political understanding, the situation will quickly return to course and the Real will recover", pointed out the former president.
But despite all the bad news, Cardoso underlined the positive side of the current situation which is the strong foundation of Brazilian democracy and institutions. "In a similar situation back a few decades, people would already be speculating about generals' names for what was considered an imminent military coup, but now we talk about prosecutors, magistrates and Justices. It is undoubtedly a great advance".