Falklands: Argentina waiting for a reply to its project to identify remains buried at Darwin
Thursday, October 1st 2015 - 05:19 UTC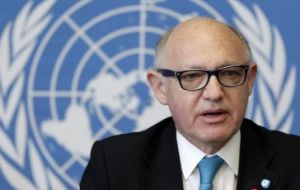 Argentina is concerned that there has been no reply from the UK regarding its initiative and request to identify the remains of the Argentine combatants buried at the Darwin cemetery, or Argentine memorial, in the Falkland Islands, according to a release from the Argentine foreign ministry.
Foreign minister Hector Timerman met in the sidelines of the UN General Assembly in New York with Peter Maurer, president of the Red Cross International Committee, the organization which is acting as the link in the request, and after thanking him for the efforts also transmitted Buenos Aires concern, since so far there has been no reply on the matter from London.
According to the release, the Argentine government has complied with all the requirements demanded to implement the initiative to identify the remains, as has been expressed by families of Malvinas Veterans.
Despite the situation, Dr. Maurer pledged the Red Cross would continue with its efforts before the UK so that the initiative, which is humanitarian, can advance and bring peace to the families.
The Argentine memorial holds the remains of 237 combatants, of which 123 graves have a cross and a single line: "An Argentine soldier known only by God".