Support for Falklands and self determination remains solid in Labour conference
Monday, October 5th 2015 - 07:24 UTC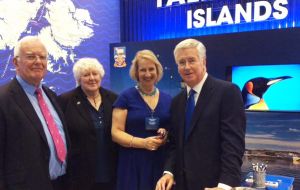 Support for the Falkland Islands and its right to self-determination remains solid, despite the change of leadership in the Labour party, said Sukey Cameron Falkland Islands Government Office (FIGO) in London who is attending with, Islands' lawmakers the round of party conferences in the UK.
Throughout last week the Falklands representatives had the opportunity to meet a number of new Labour Members of Parliament, the Shadow ministerial teams and delegates, who visited the Islands' stand at the conference in Brighton.
"The change of leadership in the (Labour) Party has bought a new atmosphere to the Conference, but support for the Falkland Islands and our right to self-determination remains solid", pointed out Sukey Cameron.
The Falklands presence was also enhanced by the award of second place for the Best Commercial Stand. The new-look Falklands stand attracted a large number of visitors at the Conference in sunny Brighton this week.
Rosie Winterton MP visited the stand to present the award.
FIGO Representative in London Sukey Cameron said she was delighted to receive the recognition after 28 years attending Labour Party Conferences.
Ms Cameron and Legislative Assembly Members Jan Cheek and Roger Edwards were joined on the stand by Assistant Representative James Marsh and FIG PR & Media Manager Krysteen Ormond.
The team continued to Manchester for the Conservative Party Conference from Sunday until October 7.
And in effect on Sunday the Falklands stand received a very significant visit: Secretary of Defense Michael Fallon who stopped to chat with MLAs and Sukey Cameron.