Falklands' stand visited by Foreign Secretary Hammond and MP Rosindell
Tuesday, October 6th 2015 - 09:14 UTC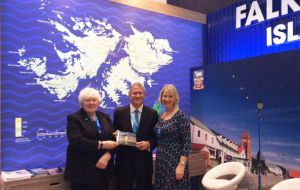 Foreign Secretary Philip Hammond, MP Andrew Rosindel and Charles Tannock MEP, were among several personalities that visited the Falkland Islands stand at the Conservative Conference which is taking place in Manchester. He was met by Falklands lawmakers Jan Cheek and Roger Edwards, and Sukey Cameron, head of FIGO, Falklands' government office in London.
As in a keynote speech to the conference, during the meeting Mr. Hammond reiterated full support for the Falklands' right to self determination and the Conservative party commitment to Falkland Islanders developing their economy and resources.
In effect on Sunday Hammond delivered a robust message to Argentina regarding the Falkland Islands, which he said are exposed to a "shameful bullying and harassment" by the government of president Cristina Fernandez.
"While I'm speaking Spanish, let me clarify something for president Cristina Fernandez Kirchner of Argentina - whatever the (new) Labour leader says, this Conservative government will never sell out the Falkland Islanders", said Hammond who recalled how the Falkland Islanders voted unanimously (99.8% on a turnout of more than 90%) to remain British in a recent referendum.
"The bullying and harassment to which the Islanders continue to be subjected is shameful - it's counter-productive, it's wrong and it must stop. The Falkland Islanders have every right to develop their economy".
Falklands delegates also participated on a Friends of British Overseas Territories panel event with Andrew Rosindell MP, chairman of the All-Party Parliamentary Group on the BOTs.