Chile announces world's third largest fully protected marine area
Wednesday, October 7th 2015 - 05:37 UTC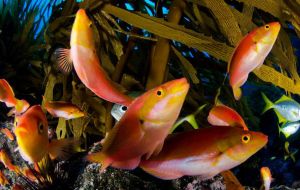 Chilean President Michelle Bachelet announced this week the creation of the Nazca-Desaventuradas Marine Park, giving Chile claim to the largest marine reserve in the Americas -- as well as the Easter Island Marine Park, which will be the third-largest fully protected marine area in the world.
Combined, Chile's two areas would protect more than 350,000 square miles, larger than the country's total landmass. The announcement was done during the 2015 Our Ocean conference taking place in Valparaíso, Chile's main port.
Nazca-Desventuradas Marine Park, which encompasses 114,872-square-miles of ocean surrounding the islands of San Félix and San Ambrosio, is a fully protected no-take zone, where fishing and other extractive activities are now prohibited.
Enric Sala, an explorer-in-residence at National Geographic and head of the Pristine Seas project, called the park "a gift from Chile to the world".
"It contains pristine underwater environments like nothing else in the ocean, including deep underwater mountains with species new to science, abundant giant lobster and a relict population of the once-thought-extinct Juan Fernández fur seal," Sala said in a news release.
Additionally, Chile is moving forward with a proposal to establish a massive marine park around Easter Island, located some 2,500 miles west of Chile's mainland.
Pending final approval by the island's indigenous Rapa Nui people, fishing would be banned in a 243,630 square-mile area. The exception would be subsistence fishing practices by Rapa Nui within an area extending 50 nautical miles from the shoreline.
"World famous for its Moai statues, Easter Island will now be known as a global leader in ocean conservation," Joshua S. Reichert, who leads environment initiatives at The Pew Charitable Trusts, said in a statement. "This announcement is an important step toward establishing the world's first generation of great parks in the sea."
The proposed park aims to protect against illegal fishing and safeguard the biodiversity of the island's waters, which are home to 142 endemic species, 27 of which are threatened or endangered, according to Pew.
"The ocean is the basis of our culture and our livelihood," Pedro Edmunds Paoa, Easter Island's mayor, said in a statement. "The Rapa Nui community is immensely proud of this marine park, which will protect our waters for generations to come."