Corriere Della Sera apologizes to Cristina Fernandez for publishing 'false news on her shopping'
Friday, October 9th 2015 - 10:20 UTC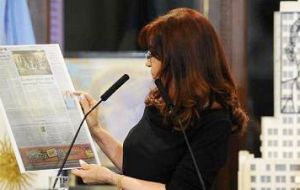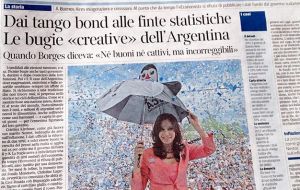 A Roman appeals court has confirmed a ruling against Italy's Corriere Della Sera newspaper for a defamatory piece on Argentine president Cristina Fernández.
In 2013 a court decision had already ruled against the daily, its former director Paolo Mieli and journalist Maria Egizia Fisachetti, who had said in a 2008 article that the Argentine leader had gone shopping during an official trip to Europe.
Thursday's ruling confirms that sentence on actual malice grounds, that is, with knowledge that what was published was false or with reckless disregard of whether it was false or not.
By that time, the newspaper was ordered to pay €40,000 to Cristina Fernandez that the head of state donated entirely to the La Plata Children's Hospital.
The controversial article was published in 2008 saying that Cristina Fernández had been in the famous Enigma jewelry where she had purchased Bulgari-designed earrings, watches and golden bracelets worth more that €140,000, as she visited Italy to attend the summit of the Food and Agriculture Organization of the United Nations (FAO).
The false information released by the Corriere was echoed by some Argentine media.
Following the decision by the Italian justice condemning the release of the article, the new director of the daily, Ferruccio de Bortoli, officially apologized to president Cristina Fernandez.
"Kirchner's shopping was not true, Corriere della Sera condemned for an article," the online edition of the newspaper said in its headline when the first ruling came out in 2013.