"Something is rotten in FIFA": out Blatter, Platini, Valcke, and in comes Africa's Hayatou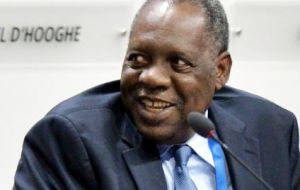 The president of the African football confederation Issa Hayatou steps up to replace Sepp Blatter who was on Thursday suspended for 90 days over corruption allegations. Blatter was provisionally suspended for 90 days along with secretary general Jerome Valcke and UEFA chief Michel Platini.
The FIFA presidential dreams of Chung Mong-joon were ended Thursday when he was slapped with a six-year ban from football.
Blatter's ban follows the ethics committee's probe of what Swiss authorities called a "disloyal" $2 million payment to UEFA president Michel Platini in 2011. He is also accused of striking a World Cup TV rights contract with disgraced former FIFA vice president Jack Warner that was "unfavorable to FIFA". The 79-year-old denies wrongdoing.
Hayatou, who has himself been embroiled in a string of scandals over the years, takes over from Blatter on an interim basis.
The IOC member from Cameroon was implicated in bribery allegations relating to the Qatar World Cup bid, which he strenuously denied, and was reprimanded in 2011 over ethics violations relating to FIFA's ISL marketing scandal.
But on Thursday he found himself anointed as the acting president of FIFA, in accordance with Article 32 (6) of the FIFA Statutes which mandates that he take over as the longest-serving FIFA vice-president.
"Today, amid extraordinary circumstances, I have assumed the office of FIFA president," he said in a FIFA statement. "I will serve only on an interim basis. A new president will be chosen by the Extraordinary Congress on 26 February 2016.
"I myself will not be a candidate for that position."
Hayatou said that until the congress he would "dedicate my best efforts to the organization, the member associations, our employees, our valued partners, and football fans everywhere".
"FIFA remains committed to the reform process, which is critical to reclaiming public trust. We will also continue to cooperate fully with authorities and follow the internal investigation wherever it leads," he added.
In 2014, Hayatou was engulfed in corruption allegations linked to the Qatar World Cup bid. He was named in a report by the Sunday Times as having accepted payments and junkets from former FIFA presidential candidate Mohamed Bin Hammam.
The newspaper says the Qatari used slush funds controlled by his private company to make payments totaling $5m in his bid to secure the support of Africa's four FIFA ExCo members for the Qatar 2022 bid and likely his own FIFA presidential ambitions.
Hayatou's name appears a number of times in the exposé. Bin Hammam was said to have channeled $400,000 to his Cameroon federation from the FIFA Goal Program, which the Qatari controlled. The newspaper claims that Bin Hammam also bought 60 South Africa World Cup tickets costing about $3,800 and had them delivered to the CAF president.
He "categorically" denied the allegations and labeled them "fanciful" and "ridiculous".
Hayatou, a FIFA vice-president since 1992 and an IOC member since 2001, was the subject of an IOC investigation after allegations concerning the ISL scandal were revealed in a BBC Panorama documentary in December 2010, days before the FIFA vote on the 2018 and 2022 World Cups.
The exposé by BBC investigative journalist Andrew Jennings into "FIFA's dirty secrets" said Hayatou and two other FIFA Ex co members - CONMEBOL president Nicolas Leoz and Brazilian football federation chief Ricardo Teixeira – took backhanders in the $100 million scandal involving FIFA's former marketing partner ISL which collapsed in 2001.
Hayatou was accused of taking 100,000 French Francs (about $20,340). He has always maintained that it was a gift for his confederation.