China to the rescue of cash strapped Petrobras with $2bn for a 10-year lease of two platforms
Wednesday, October 14th 2015 - 08:01 UTC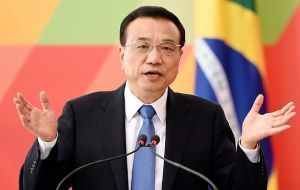 Brazil's state-run oil firm Petroleo Brasileiro SA will raise $2 billion through a 10-year leasing contract with China's Industrial and Commercial Bank of China Leasing, the Brazilian company said in a statement on Tuesday.
Petrobras will lease the platforms P-52 and P-57 for 10 years as part of efforts to raise cash and reduce the world's biggest debt load among oil firms.
According to the release: Petrobras announces that it concluded the negotiations with the Industrial and Commercial Bank of China Leasing - ICBC Leasing related to a financing transaction amounting to $2 billion for a period of 10 years, through a financing leasing related to two already existing platforms (P-52 and P-57).
This transaction is part of the cooperation agreement to create a long-term relationship between Petrobras and ICBC, entered into during the visit of the Chinese prime minister Li Keqiang to Brazil in May 2015.
The funds will be available for disbursement after the internal approvals of both institutions. This transaction is part of Petrobras' strategy to diversify its financing sources and represents an anticipation of the financing activities planned for 2016.
Facts deemed relevant on this topic will be timely communicated to the market, concludes the brief release.