Scioli with best chances of becoming Argentina's next president, if the runoff is with Macri
Monday, October 19th 2015 - 06:59 UTC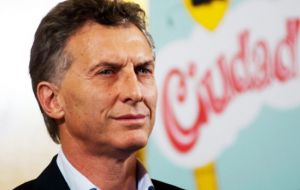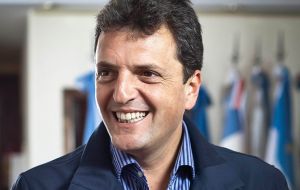 With less than a week to Argentina's presidential election next Sunday, the latest reliable public opinion polls indicate a very close race with the incumbent and leading candidate hovering very close to the magic 40% of ballots needed to win in the first round and thus avoid a runoff a month later.
According to Ipsos-Mora and Araujo, which was published in the Sunday edition of Perfirl, Scioli would be reaching 42% of ballots in a week's time, and fourteen points ahead of Mauricio Macri, his runner up, and if this is confirmed he would avoid the November runoff.
Under Argentine electoral rules for president, the winning candidate needs 40% of valid votes plus a ten-point difference over this closest follower, or a clear 45% of valid votes. All pollsters coincide Scioli won't make it to 45% in the first round, but could reach the other option.
However another opinion poll from CEOP, Public Opinion Studies Center, published in the government supported Pagina 12, the Victory Front candidate Scioli has 37.9% of the vote, which increases to 40.7% without the undecided. Macri on the other hand has 26.3% and 28.2% without the undecided.
A third opinion poll from Management&Fit published in Clarin says there will be a runoff between Scioli and Macri next 22 November, since the incumbent candidate has reached his ceiling of 38.3%.
However the clue is in the hands of the undecided which according to the different polls have a floor of 5% to a maximum of 10%.
So it's still an open race given the very tight percentages, despite the fact that incumbent Scioli leads followed by Macri and in third position Sergio Massa.
Massa a former cabinet chief of the Kirchners who split over policy differences has steadily climbed since the PASO primaries of last August and is now only four to five points below Macri.
In a runoff scenario, Scioli would be defeated by Massa, according to Ipsos-Mora and Araujo, but Scioli would become Argentina's next president if his runoff contender is Macri.
Other presidential candidates for next Sunday's election have less than 5% vote intention according to all opinion polls.
Ipsos-Mora & Araujo included 1.209 interviews during the last five days, with a plus/minus error margin of 2.81 percentage points. CEOP interviewed 2.737 people nationwide in the last five days and estimates an error margin of plus/minus 2 percentage points.