Dollar reaches new record in Argentina, as Sunday's Election Day approaches
Tuesday, October 20th 2015 - 06:05 UTC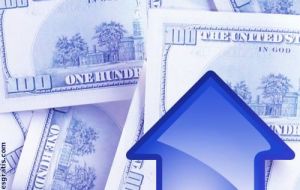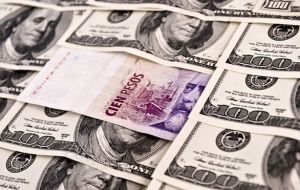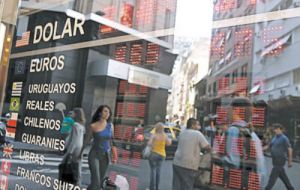 The US dollar in Argentina ended trading on Monday at 9.51 Pesos in banks and foreign exchange agencies while the parallel exchange rate or 'blue' continued to grow and ended 17 cents higher at 16.11 Pesos in underground houses, hitting a new record high.
The "blue" dollar broke the September 25 record high, when it reached 16.06 Pesos. According to analysts, savers turned to greenbacks ahead of Sunday's general elections, boosting demand in the informal market. The gap between the official and 'blue' rate thus climbed to 69%.
Meanwhile, the blue-chip swap dollar rate climbed eight cents to 14.05 Pesos and the stock exchange rate ended three cents higher at 13.84 Pesos.
According to money exchange houses and traders the Argentine central bank was forced to sell a net 100 million dollars to keep the greenback from climbing as uncertainty and fear about possible 'day after' measures that could be implemented by the next government.
In related news Argentina's (cooking) Oil Industry Chamber and the Cereal Exporters center, which represent one third of Argentine exports, revealed that during the last week they had concluded foreign sales for 309 million dollars, above the 296 million dollars of the previous week.
So far this year the two organizations said that they had provided Argentina with 16.9bn dollars compared to the 19.5bn of a year ago. The period considered extends from January to mid October.