Mercosur and EU closer to begin negotiations; exchange of proposals will be under reserve
Wednesday, October 21st 2015 - 06:45 UTC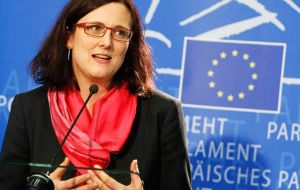 Once Mercosur and the European Union conclude their exchange of goods and tariff reduction proposals for the long awaited trade agreement, contents of the deal will be kept in reserve while negotiations are ongoing, with no access to media or public opinion, anticipated Paraguayan foreign minister Eladio Loizaga.
"This is no secret negotiation or has the intention of being kept secret, but these are normal procedures once the two sides proposals are exchanged and begin negotiations. Following that stage all becomes open", pointed out the minister from Paraguay which currently holds the rotating chair of Mercosur until next December.
Loizaga insisted that negotiations are always closed, "but we will make them public once proposals are exchanged and talks begin. Following that, the extent of the ambitious accord, products, services, tariffs, all will be open to public opinion".
"There are sensitive issues for the EU, particularly regarding agriculture, such as beef" said Loizaga while Mercosur also has its issues such as services and government appropriations.
Loizaga revealed he has meetings scheduled in Brussels with EU Trade Commissar, Anna Cecilia Malmström and with the head of foreign affairs Federica Mogherini , when "the position of the four Mercosur-member will be confirmed" and this should mean "we are ready to begin talks".
Mercosur and the EU have agreed to exchange their proposals for the trade agreement next November. Both blocks have been on negotiations since 1999, which has been repeatedly delayed for different political and trade circumstances, but the target is a wide ranging cooperation and trade agreement encompassing goods, (both in agriculture and industry), services, government purchases, and intellectual property among other issues.
As of next December Mercosur rotating chair will fall upon Uruguay, which together with Brazil are determined to ensure an agreement is reached.