Rousseff admits massive budget deficit this year; estimates are of 9% of GDP
Friday, October 23rd 2015 - 08:30 UTC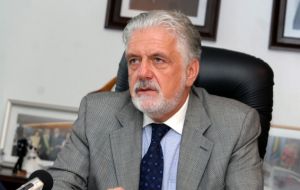 Brazil has given up on its goal of seeking a primary budget surplus this year and instead will record a massive shortfall as a deepening economic and political crisis drags on revenues, presidential chief of staff Jaques Wagner said on Thursday. Brazil's overall budget deficit has soared to 9% of GDP, according to estimates.
President Dilma Rousseff was forced to drop plans to reach a fiscal surplus and instead is projecting a deficit of at least 50 billion Reais ($12.74 billion) as tax revenues have plummeted and the government is struggling with efforts to raise extra income, Wagner said.
That projected deficit could be even wider if the government decides to include up to 35 billion Reais in arrears it owes state-run banks. Wagner acknowledged that the projected deficit does not include those arrears.
Last July, the government cut this year's primary surplus goal to 8.7 billion Reais, or 0.15% of GDP, from 66.3 billion Reais, equivalent to 1.1% of GDP, in its original budget. The new fiscal goal has to be approved by Congress.
The outlook for a record deficit highlights just how difficult it will be for Rousseff to shore up government accounts and regain the confidence of investors backing away from the slumping economy.
Brazil's Federal Accounts Court ruled on Oct. 7 that Rousseff manipulated the budget last year by delaying payments to those banks that advanced money to pay for social programs. The ruling has emboldened Rousseff's opposition, which is calling for her impeachment for breaching the fiscal responsibility law.
Brazil's fiscal woes have triggered a slew of rating downgrades that threaten to further sink an economy heading for what many experts expect to be its longest recession since the 1930s.
Rousseff has stood by a targeted primary surplus of 0.7% of GDP next year, but many economists doubt she will be able to hit that target either, as a rebellious Congress blocks her unpopular austerity plans. Even if the government scores a surplus next year the accounts remain far from being balanced. Brazil's overall budget deficit has ballooned to more than 9% of GDP.