Argentine presidential run-off in November but with completely different scenario
Monday, October 26th 2015 - 08:21 UTC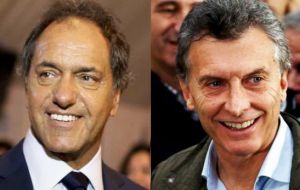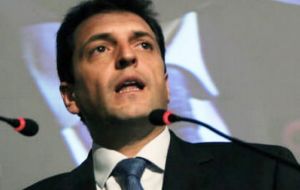 Argentina's presidential election is headed for a November 22 runoff between incumbent Cristina Fernández chosen successor Daniel Scioli and conservative rival Mauricio Macri, according to results released into early Monday.
The two candidates were neck-and-neck with around 35% each, which later settled at 36.33% and 34.80% as results Scioli's stronghold, Buenos Aires province, where he has served as governor for the past eight years turned into a nightmare.
Scioli, a 58-year-old powerboating fanatic who lost his right arm in a 1989 racing accident, was considered according to most opinion polls until a week ago the front-runner with a ten-point difference over his runnerup, although it was in doubt if he could avoid a runoff. In Argentina to avoid a run off the candidate must obtain 40% of ballots plus a ten-point difference or 45% of votes.
However for Macri, 56 and mayor of Buenos Aires City, and his Cambiemos grouping, (Let's change) Sunday results were a milestone in Argentine politics. "What happened today changed the country's politics".
"The challenges aren't easy, but I have faith in myself," he said and called on the rest of the political spectrum and even Scioli followers to trust him with their vote in November.
The runoff will be the first ever in Argentina, which adopted a two-round presidential election system in 1973 but has never had a race go all the way to the second round.
Earlier in the night, Scioli acknowledged the race was headed for a runoff as both sides awaited the official results. "I call on all undecided and independent voters to bring a victory for all Argentines," he said in a speech to thousands of supporters at his campaign headquarters.
Third-place candidate Sergio Massa won 21% of the vote. A former Kirchner ally, Massa fell out with the president and launched a rival party, the Renewal Front, two years ago.
The race draws a curtain on 12 years under Cristina Fernandez and her late husband and predecessor Nestor.
Their legacy of trade protectionism, social welfare and defense of the working class -- as well as a highly combative political style -- is deeply divisive in Argentina.
Scioli, a self-described centrist, has vowed to uphold the core of "kirchnerism". But he has also promised a change in style to attract more investment and increase productivity.
Macri, a former football executive who rose to prominence with a trophy-encrusted reign at Argentina's most popular club, Boca Juniors, has vowed to put an immediate and decisive end to Cristina Fernandez hallmark policies.
As Cristina Fernandez cast her ballot, the 62-year-old leader said she was proud to be handing over a "normal" country. "In the past, we've always voted in the middle of crisis," she said, who leaves office with an approval rating of around 40% after serving the limit of two consecutive terms.
But the economic magic of the early Kirchner years has faded. The next president will inherit a country troubled by inflation, an overvalued currency and an economy facing what the IMF predicts will be a 0.7% contraction next year.
Furthermore her fiery spirit and undissimultaed arrogance has had a divisive impact on Argentina public opinion. Her Bush attitude to politics, 'you are with me or against me' has cost her dearly in clashes with the Justice branch and internationally, and so have her latest decisions.
In effect she handpicked candidates, including Scioli, the most palatable of those who surround her, but also her cabinet chief, Anibal Fernandez as candidate for Buenos Aires province governor. His daily press conferences shooting from the hip at all those who dare contradict or question his boss are memorable, but have made him a questionable figure.
And the province of Buenos Aires is Argentina's largest electoral district and hardrock support of Peronism, the country's hegemonic political force. Well, despite all the Kirchnerite welfare and handouts, Anibal Fernandez lost to Maria Eugenia Vidal, the smiling, soft heart lady candidate of Macri. It's the first provincial defeat of Peronism in the province since 1983.
The loss of this crucial district cut Scioli's ten point advantage over Macri to a mere feegble two, and made third in dispute Massa kingmaker. Likewise since Massa also preaches Peronism, his 21% vote in a national election with a group born two years ago turns him also a formidable candidate to become Peronisms' captain, given the debacle caused by the two Fernandez, Cristina and Anibal.
So it's an open race and Monday begins a round of crucial negotiations leading to the November vote. And even more important for a frustrated Scioli, it could mean cutting lose from the Cristina Fernandez leash which gave him the image of a lap-dog, and so much limited the independent vote from supporting him. And let us not forget that Massa is also Peronist and historically in Argentina Peronism has targets very clear: first and above all get hold of government, and later we will see how we split it up.
Official final elections numbers