Cristina Fernández reinstates benefits for exports shipped from Patagonia ports
Wednesday, November 4th 2015 - 06:24 UTC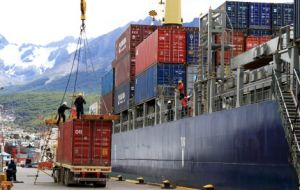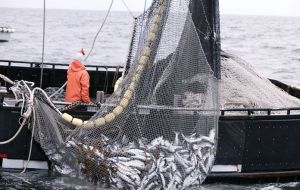 The outgoing government of president Cristina Fernandez reinstated benefits for all exports that are handled through Patagonian ports. Decree 2229/15 published in the Federal Gazette establishes the extent and percentage of benefits, for the next five years, as long as they are shipped from ports and customs to the south of the Colorado River.
The benefits include commodities (fruit, fish, oil and gas, metals) and manufactured goods. In the Patagonian benefitted provinces, Rio Negro, Chubut, Santa Cruz and Tierra del Fuego, Cristina Fernandez' Victory Front showed a significant performance in the first round of 25 October presidential and legislative elections.
The measure is undoubtedly detrimental for the ports of Buenos Aires and Bahía Blanca which currently manage most of those exports.
"It's clearly political, since it will promote shipping and ports' investments in Patagonia, which currently have little or no activity and punish the more active ports in the rest of the Atlantic", according to representatives from the displaced terminals, mostly in Buenos Aires province.
The decree considerations argue that produce from the region suffer structural disadvantages and are exposed to high logistic costs and current exports levies, 5% for fruit and fisheries produce to 15% for skins and ovine meat.
This means that exports channeled through the ports of San Antonio Oeste (Rio Negro) and Puerto Madryn (Chubut) will be reimbursed with an 8% benefit. From Comodoro Rivadavia, 9% and in Santa Cruz province, Puerto Deseado and San Julián the benefit will be 11%.
Finally, the emblematic port of Rio Gallegos, where the Kirchner couple started their long political march to the presidency of Argentina, will grant exports a 12% benefit, similar to Rio Grande in Tierra del Fuego and 13% in Ushuaia, capital of Argentina's most extreme province.
Benefits are also to include exports from the Patagonia landlocked province or Neuquén, as long as they are shipped from Patagonia ports.
This is the second time that export benefits are reimposed for Patagonian ports. During the government of president Carlos Menem, it was in 1995, but with decreasing percentages reaching 1% by 1999.
When Cristina Fernandez steps down next 10 December, she will be heading back to Santa Cruz province, the Kirchner's turf, where her sister in law, Alicia Kirchner was elected governor and her son Maximo, member of the federal Lower House.