Chilean judge sentences 64 former Pinochet secret police officers to jail time
Thursday, November 5th 2015 - 08:00 UTC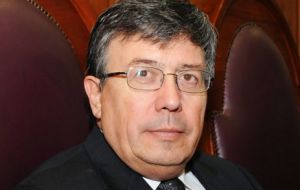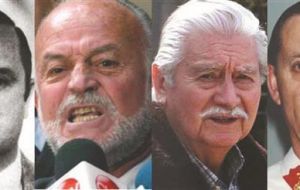 Chilean judge Hernán Crisosto sentenced 64 former secret police officers (DINA) to jail time for the detention and disappearance of Washington Cid Urrutia in 1974 during the country's military dictatorship led by Augusto Pinochet (1973-1990).
Urrutia's killing was part of the so-called Colombo Operation whose aim was to eliminate alleged regime opponents. Judge Crisosto of the Appeal Court of Santiago sentenced the former spy agents to 13, 10 and four years in jail.
The retired generals César Manríquez Bravo and Raúl Iturriaga Neumann, as well as brigadiers Miguel Krassnoff Martchenko and Pedro Espinoza Bravo were given the highest sentences in this trial of 13 years. All of them are already serving prison terms of over 200 years for dozens of other human rights violations trials.
A total of 35 other DINA officers, among them many women, were given ten-year sentences, while 24 others received four-year sentences for being accomplices to the crime. One agent was given a 541-day jail sentence.
Crisosto, who is specialized in human rights violations cases, absolved 11 officers.
The 24-year-old Cid Urrutia was a militant of the revolutionary left movement (MIR) and was captured by DINA officers, together with his wife María Isabel Ortega and Hernán Carrasco Vásquez, on December 8 of 1974 in his home located in the Renca municipality of the city of Santiago.
The three were taken to a torture and extermination centre in Villa Grimaldi.
According to witnesses' accounts, Urrutia remained at the centre, without contact to the outside world, with his eyes covered and his hands tied down. He was repeatedly tortured until end of December, when his body allegedly disappeared.
In July of 1975, a list with 119 disappeared Chileans, was published in a one-time only edition of Chilean newspapers Lea and O Novo Día.
The article at the time said that the victims had supposedly been killed abroad in internal fighting between MIR members, but it was later revealed that it was a cover up orchestrated by Pinochet's secret police DINA to conceal the truth behind their deaths. In fact, they had been murdered by them.
The Colombo Operation is considered the first episode of Condor Operation, which was a secret collaboration between the military dictatorships of Chile, Argentina and Brazil to eliminate regime opponents.
In the 25 years of democracy, there have been 1,149 convictions handed down for dictatorship-era human rights crimes. During Pinochet's dictatorship (1973-1990), a total of 3,200 citizens were killed by the regime, according to official figures.
There are still 1,192 Chileans who are unaccounted for. There also were 33,000 people who were kidnapped, detained and tortured due to their political views. However Chile's military government retained support among conservatives after its downfall, and for years they blocked attempts to deal with the dictatorship's crimes.
Pinochet died in 2006 without ever being convicted for human rights abuses.