Falklands' Remembrance Sunday commemorations on a soft rain day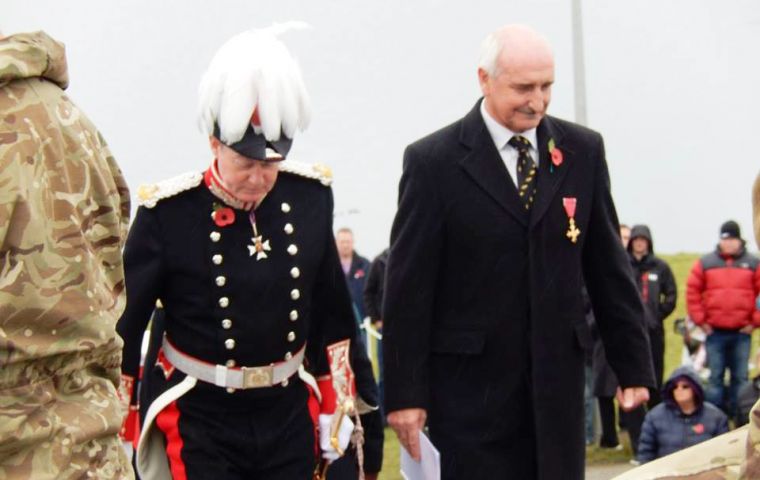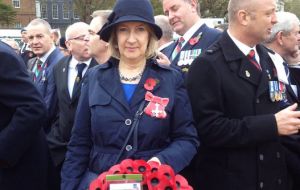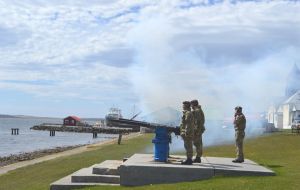 The Falkland Islands commemorated Remembrance Sunday on a damp day with a soft rain that added to the poignancy and quiet of the ceremony held in the capital Stanley, while in London the Falklands' government representative laid a wreath at the Cenotaph.
In Stanley, on November 8, Remembrance Sunday Parade held at the Cross of Sacrifice was accompanied by a significant turnout of residents and visitors.
The parade which honored those who gave their lives for peace and freedom, followed a service held in Christchurch Cathedral led by Reverend Kathy Biles and attended by Governor Colin Roberts, Commander British Forces, Commodore Darren Bone, members of the Legislative Assembly, visiting and resident veterans and senior officers of the Armed Services.
The parade was a colorful and well attended event and included representatives from the Royal Navy, Army, Royal Air Force, Falkland Islands Defense Force, local youth groups and associations linked to the forces.
A short service was held at the Cross of Sacrifice and the Roll of Honor read out followed by a two minutes silence at 11am marked by the firing of the saluting guns on Victory Green.
Wreaths were then laid by Governor Roberts, MLA Mike Summers on behalf of the Government, the Commander of British Forces and others.
In London FIGO representative Sukey Cameron MBE laid a wreath at the Cenotaph on Remembrance Sunday, a ceremony which was headed by Queen Elizabeth.
In the Falklands the British Army Medical Services Band provided a musical accompaniment to both the church service and the parade. The hardworking band also gave performances at Arch Green in the two days before the parade much to the delight of Falklands residents and visiting cruise ship tourists. (MP/PN)