Petrobras reports huge 3Q losses: sharp devaluation of the currency blamed
Friday, November 13th 2015 - 09:10 UTC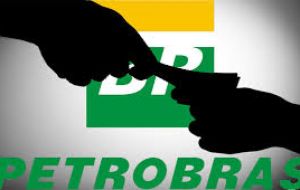 Brazil's scandal-plagued state oil giant Petrobras on Thursday announced third-quarter losses of about US$ 1 billion, mainly due to the sharp devaluation of the Brazilian currency.Petrobras, mired in a hugely damaging scandal involving bribes and high-level political payoffs, posted losses of 3.76 billion Reais in the quarter, compared with a loss of 5.3 billion Reais a year earlier.
Net sales, or total sales minus sales taxes, fell 6.9% to 82.2 billion Reais compared with 88.4 billion a year earlier. Operational results, however, improved strongly. Earnings before interest, taxes, depreciation and amortization, a key measure of cash generation known as EBITDA, rose 82% to 15.5 billion Reais from 8.49 billion Reais.
The huge corruption case has cost Petrobras more than US$ 2 billion and shaken Brazil's political establishment to the core. The third-quarter loss was much steeper than analysts expected, underlining the grave uncertainty surrounding Petrobras.
Police have revealed that Brazil's major construction companies formed a cartel to split up Petrobras contracts - overcharging it by one to three per cent - in exchange for bribes paid to executives at the company, politicians and political parties.
Brazil, the world's seventh-largest economy, is struggling with an economic recession, high inflation and rising unemployment.
Meanwhile Petrobras oil workers announced they will continue their 12-day strike, with their union saying the company's contract offer falls short of their minimum demands. The FUP, Brazil's largest oil workers union federation, said in a statement on Thursday they were seeking a meeting with the company's chief executive officer to discuss their demands.