Falklands' cruise incident: all passengers safe and 90 hosted in Stanley
Thursday, November 19th 2015 - 06:24 UTC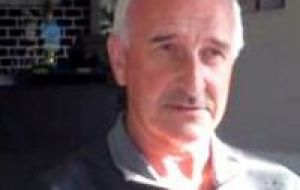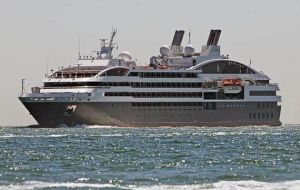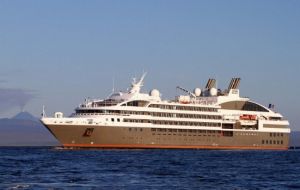 With support from a Royal Navy patrol, the Royal Air Force Search and Rescue helicopters and Falkland Islands emergency services, hundreds of passengers have been rescued from the French flagged mega yacht Le Boréal after it issued a distress call on Wednesday early morning to the north of the Falkland Islands.
Ninety of the 347 passengers and crew were air lifted to safety from life rafts, while the rest were transferred to sister ship L'Austral. No one was injured during the incident, which happened as the ship travelled from Grave Cove to South Georgia.
"We are delighted that all passengers and crew from the Boreal are safe and well. Many congratulations to the MoD SAR, the FIG Emergency Services , the North Camp helpers, and all those who have worked to make the outcome successful and as comfortable as possible", said Mike Summers, a member of the Falklands elected government.
"Apologies to those who were on standby and then stood down, but we are all nevertheless grateful, and there is still tomorrow!!", added MLA Summers.
A spokesman for Compagnie du Ponant, which owns Le Boréal, said: "As a precaution, all passengers were evacuated from the ship. They will re-embark on L'Austral, who belongs to the Ponant fleet, situated nearby, before being repatriated quickly."
An investigation into the fire has been launched and the remainder of the cruise cancelled.
The Falkland Islands government later reported that all passengers from the Le Boreal's life rafts had been safely transferred to L'Austral, which was sailing for Stanley. The remaining 78 (mainly crew and 12 pax) who were transferred to land by SAR helicopters have now arrived in Stanley by coach via Mount Pleasant.
Le Boreal is now anchored safely with captain and skeleton crew on board. Falklands' patrol HMS Clyde helped with the transfer of passengers and together with the support of two powerful oil rig tugs have been successful in combating the fire on board.
Cruise company statements indicate the fire was strictly caused by a technical incident in the engine room.
All passengers underwent medical checks prior to being released into Stanley to be assigned accommodation. Each rescued person was issued with toiletries and hygiene items provided by the Falkland Islands Government.
Earlier in the day a call went out to the Stanley community for warm clothes and accommodation. Clothes were delivered to the Seamen's Mission and those wishing to provide accommodation coordinated this through the ship's local agents, Sulivan Travel and the Falkland Islands Tourist Board.