Falklands' cruise rescue operation live-tested and successfully completed
Thursday, November 19th 2015 - 22:30 UTC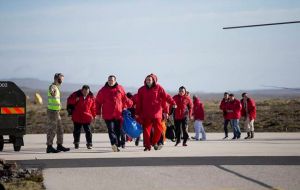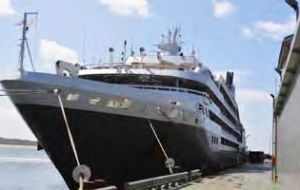 Passengers and crew forced to abandon a cruise ship due to a fire in the engine room causing loss of power, were all safe and without injury in Stanley yesterday morning. This followed a complex rescue and care mission comprising British Forces from Mount Pleasant, Government emergency services, the ship's agents Sulivan Shipping and with support from local farmers.
Emergency Services in the Falkland Islands were notified of a distress call from vessel Le Boreal at 0201 on Wednesday morning this week.
The ship carrying 347 passengers and crew was five miles to the West of Cape Dolphin when the fire was discovered. The vessel eventually moved two miles closer to shore.
66 crew and 12 passengers climbed in to life rafts while the balance of passengers left the ship in two tenders in swells three metres high and approaching gale force winds.
RAF Search and Rescue, Bristows and British International helicopters were sent to the scene and HMS Clyde immediately changed course and headed there also.
The vessel's sister ship L'Austral only hours behind offered assistance and the Falkland Islands Defence Force was deployed to Cape Dolphin to assist with movement of crew and passengers to Cape Dolphin House.
Because passengers and crew in the small life rafts were considered to be at the most risk, helicopters were used to transfer them to land. At Cape Dolphin they were cared for by farm managers Mike McRae and Nikki Summers along with other farmers who had driven to the area to assist.
Ms Summers told Penguin News: "One person needed oxygen as he may have inhaled smoke and some others were quite shocked, but they were all OK."
Ultimately that group of passengers and crew were flown to Mount Pleasant where they were cared for by military and civilian medical and welfare staff before an onward journey by coach to Stanley.
Concerns about the state of Le Boreal, generated deployment to the area of tugs Giessenstroom, Dintelstroom (MoD) and oil rig support vessel Pacific Leader.
Passengers in the tenders meanwhile were to face many hours on the unrelenting waves.
Although the plan was to transfer them to L'Austral, the high swells made the operation too dangerous out at sea. Instead the tenders were towed by HMS Clyde to the quieter waters of White Rock Bay to the South West of Cape Dolphin where the transfer was eventually made on Wednesday afternoon.
A statement from the Falkland Islands Government yesterday noted that: "The rescue was a lengthy and difficult one and will have been very distressing for the passengers and crew involved. It was imperative that the passenger and crew movements were thorough and safe rather than rapid and as a result it has taken longer than expected to load all remaining crew and passengers on to L'Austral and conduct the necessary head-checks and identification."
While the rescue mission was underway, ship's agents Sulivan Shipping were making rapid arrangements for temporary accommodation, should it be required, for all of the passengers, and communicating with the ship's company Compagnie du Ponant.
Beds for everyone were soon accounted for after an appeal to the general public.
The first tranche of evacuees eventually arrived in Stanley at 14.30 accompanied by staff from Customs and Immigration.
The remainder of passengers reached Stanley Harbour on L'Austral and docked at FIPASS in the early hours of Thursday morning, where they were met by H E the Governor, Colin Roberts the Chief Executive Keith Padgett (Silver Command leader*) and King Edward Memorial Hospital staff in order to offer support that might be required.
Le Boreal was under tow by an MoD tug at the time of Penguin News going to print.
A decision was still to be made whether to berth her at Mare Harbour or at FIPASS. With a slipped anchor this added an additional difficulty in terms of logistics, but it was reported that she did not present any immediate danger.
The abandoned anchor had been successfully buoyed so as not to present a danger to other marine traffic.
The vessel was clearly listing, this was as a result of water pumped in to put out the fire. Last reports on the ship did not confirm the fire on the ship was out, but that it had been contained.
Prior to going to print, final arrangements for repatriating the passengers and crew were not complete. Compagnie du Ponant is understood to be exploring options
for a charter flight.
Le Boreal was en route to South Georgia when the fire started.
* As part of FIG's Major Incident Planning, the Silver Command Team is lead by the Chief Executive, Keith Padgett and the Director of Emergency Services Andy Arthur-Bell (advised by Heads of Service). Their instructions are passed to 'on the ground' volunteers, KEMH representatives, and emergency services teams from RFIP, Fire, FIDF and Customs and Immigration.
Also involved with communicating and advising the Silver Command team on this occasion were HE the Governor Colin Roberts and portfolio holder for Emergency Services MLA Mike. (PN)