Le Boreal cruise passengers will be leaving Falklands over the weekend
Saturday, November 21st 2015 - 07:20 UTC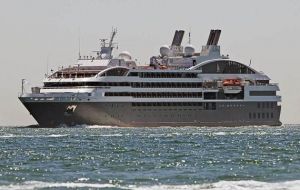 The Falkland Islands Government confirmed on Friday that travel arrangements are now in place for the crew and passengers who were evacuated from the stranded cruise Le Boreal on Wednesday 18th November, to return home. Two flights have been coordinated, one departing Saturday and the following on Sunday.
The rescued passengers have been accommodated with local hosts and the crew in commercial venues since their arrival in Stanley on the morning of Thursday 19th November.
Compagnie du Ponant, who own Le Boreal have announced arrangements for two charter flights to the Falklands in order for the crew and passengers to return home. A small number of the passengers spent the night on the sister cruise vessel L'Austral.
"The allocation of seats on the two different routes will be coordinated by du Ponant and all passengers and crew will be notified of their travel arrangements in due course", said the FIG release.
The flights are as follows:
LAN Flight LA1302, Departing Mount Pleasant for Santiago de Chile (via Punta Arenas) at 23:30hs Saturday 21st November 2015
Hifly Flight HFY66, departing Mount Pleasant for Paris (via Cape Verde) at 22:00hs Sunday 22nd November 2015
An update of events indicates that L'Austral has remained in Stanley port whilst the arrangements for the passengers and crew who were evacuated to L'Austral from Le Boreal are being finalized.
In addition to the local accommodation which has been arranged for the displaced crew and passengers in Stanley, L'Austral has been able to provide lodging for 60 people.
Du Ponant agents in Stanley and FIG have made arrangements for those passengers who will spending more time in the Falklands. They have been convened to meet at the FIDF hall for entertainment or other activities during the day.
Meanwhile the stranded Le Boreal with a skeleton crew is currently safely moored at Mare Harbor. Du Ponant have indicated they wish to tow her to a larger port in order to make necessary repairs, but arrangements for this are still being finalized.
This ship is not considered to have been 'abandoned'. At this time, a small skeleton crew remain with her, so it is not a case for salvage law.
Du Ponant have indicated that they will conduct an internal investigation into the cause of the fire, and arrangements are underway for a small group of du Ponant's engineers to travel south on the RAF Airbridge to evaluate the vessel's current condition.
Additionally, the French Marine Accident Investigation Office (BEAmer) will be conducting their own investigation into the incident.
FIG has stated that any issue relating to compensation or insurance for passengers of Le Boreal will be a matter for the vessel's owners and agents, and the same applies to passengers on L'Austral.
Finally FIG reiterated that it would like to extend "our sincere thanks to the entire Falklands community, who have supported, and continue to support, the passengers and crew with warmth and generosity at a time when they need it most".(PN)