Argentine president-elect Macri takes office on 10 December; Tuesday meeting with Cristina Fernandez
Monday, November 23rd 2015 - 07:16 UTC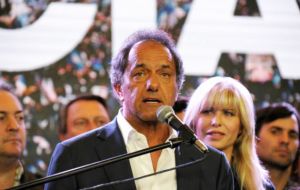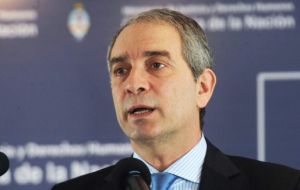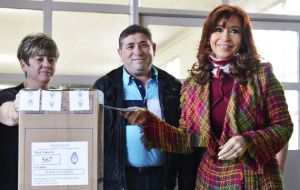 Mauricio Macri is Argentina's next president following the results of Sunday's runoff, the first in Argentine history. He will take office on 10 December replacing president Cristina Fernandez and twelve years of uninterrupted Kirchnerism. Although definitive results are yet to be announced by electoral officials, the primary vote counting indicated that Macri was winning with a four percentage points over incumbent Daniel Scioli.
Voting took off at 08:00 in the morning and was over by 18:00 hours. Ninety minutes later the first results were announced, and by 21.00 hours both president Cristina Fernandez and incumbent Scioli had congratulated Macri on his victory. The next president also had words of praise for Cristina Fernandez since voting day was peaceful and with no incidents reported. Macri was invited by Cristina Fernandez to the Olivos presidential residence Tuesday evening to begin what is expected to be the short transition period.
A few minutes after 21:00 hours Scioli appeared at his election headquarters to announce he had congratulated Macri, wishing him the best, and hoping God will illuminate him. The Buenos Aires province governor Scioli thanked all the people that had helped with the campaign, and voters, and then reiterated many of the achievements of the outgoing government he so many times repeated during the campaign, but admitted the people voted for a rotation in office.
"It was heartbreaking to see how much support you have given us. I'll never forget it," he said, expressing gratitude to followers, who had gathered in Buenos Aires city's Plaza de Mayo to celebrate. The crowd rapidly dispersed many of them in tears.
"The Argentine people ... have elected a new president, Mauricio Macri, who I have just congratulated by telephone," Scioli told supporters. "There's already a trend on the results. We put all our effort to convince as many people as possible."
"I hope all the rights conquered during these years, jobs, health, education, lowering the country's debt are taken care of," he added.
"We have given the world an example of democracy,"
Scioli affirmed. "Until December 10 as a governor of the province of Buenos Aires, I will work with the governor-elect," said underlining his spirit of "cooperation."
Following the speech Scioli left the electoral bunker with no further activities programmed according to his aides.
In the first round on 25 October, the incumbent candidate managed 37% of the vote against 34% for Macri and 21% for Sergio Massa, the third in dispute. Since under Argentine electoral law the winning presidential candidate must have a clear majority of 45% of the vote or 40% plus a ten point difference over his runner-up, Scioli and Macri had to meet a month later in the run-off. The first time since the two-round system was introduced in 1973.
Earlier, an hour after vote counting started, the Justice Minister Julio Alak came on stage to highlight "the exemplary celebration of democracy" experienced in Argentina adding that "78% of eligible voters cast a ballot in today's presidential runoff."
He congratulated "more than 500 thousand of citizens who have worked with high democratic responsibility to guarantee the right to vote of 32 million Argentines."
"We want to inform that the electoral act has been celebrated with absolute normality, order, peace, high security level, organization and that according to preliminary estimations, participation reached 78% of the electorate," he added.