Falklands' welcome message to Macri: "be smart, work with us, not against"
Monday, November 23rd 2015 - 07:58 UTC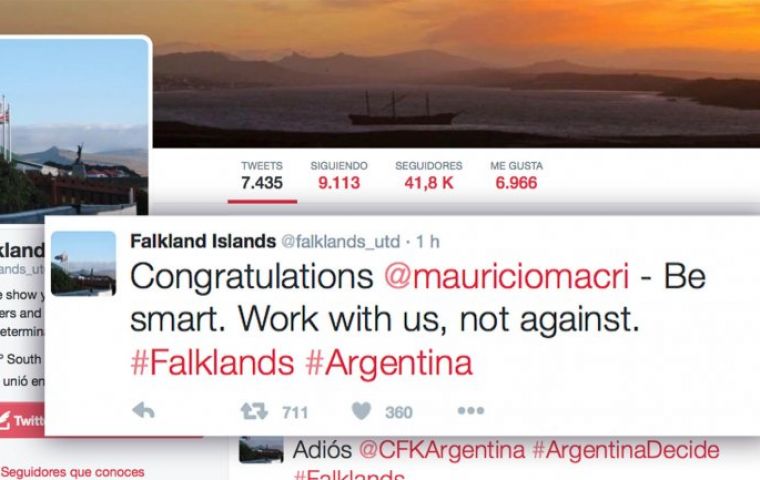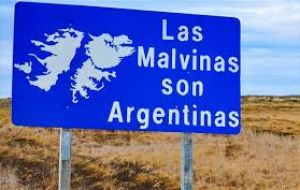 Falkland Islanders also participated in Sunday's elections in Argentina by sending congratulation messages to president-elect Mauricio Macri while celebrating the fact that president Cristina Fernandez time comes to an end.
"Congratulations @mauriciomacri. Be smart. Work with us, not against," was the brief message sent by the Islanders to Macri, who according to the early results was in his way to a historic runoff win.
The Twitter account named @FalkandIslands and that urges to "show your support for Falkland Islanders and our right to Self-Determination", added: "If only @CFKArgentina had spent more time focusing on her own people future rather than trying to ruin ours."
"To clarify, irrespective of today's election result in Argentina the #Falklands will remain British," another tweet warned.
@CFKArgentina - Turn off the lights on your way out. #ArgentinaDecide #Falklands
Excited for the people of #Argentina . Hopefully their new President will focus on their prosperity vs trying to ruin ours. #Falklands.
The Falklands, a British Overseas Territory is claimed by Argentina and is even considered part of the Tierra del Fuego and South Atlantic Islands extreme south province, according to the Argentine 1994 constitution.
Relations during the Kirchner couple years (2003/2007, Nestor Kirchner, and Cristina Fernandez, 2007/2011 and 2011/2015) couldn't have been worse for the Falkland Islands continually exposed to the harassment of the Argentine government, with clear intentions of derailing the Islands economy and isolating them from the continent.
However this policy has failed, and the Falklands have prospered and advanced considerably in the overall development of their economy and of the budding oil industry. Likewise it has created a stronger spirit of unity and resilience in the Islands.
The Falklands to make sure Argentina understands where the Islanders stand, held a referendum in March 2013, in which overwhelmingly they expressed their willingness to continue as a BOT.
The Cristina Fernandez administration repeatedly declared that the Falkland Islanders were 'squatters' and the Foreign minister Hector Timerman has also in international forums denied the existence of the Islanders as a 'people'.
President-elect Macri has not said much about the Falklands dispute, be it not for some quotes dug up by Scioli's team but dating back to several years which obviously were not in line with the official Kirchner line of thinking.
But it is also true that Macri's main partners in the winning coalition are the Radical party and they have no doubts as to whom the Malvinas belong.