Cristina Fernandez wants to become head of the opposition to Macri
Thursday, November 26th 2015 - 07:01 UTC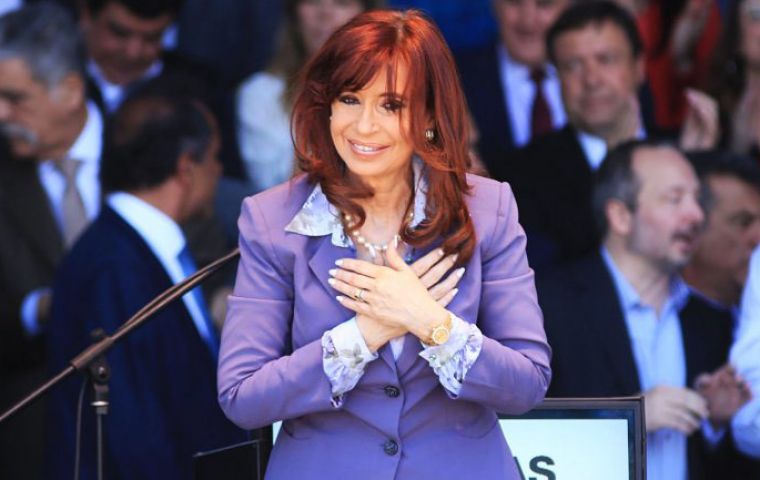 Argentine president Cristina Fernandez made on Wednesday her first public appearance since Sunday's election runoff when opposition candidate Mauricio Macri was confirmed as the new head of state, and clearly anticipated she will continue in politics and pretends to conduct the Justicialista party, the country's hegemonic political force.
"I want to tell everybody, those that voted for us and those that did not, we will not do the things they did to us. Because this political space, plural and diverse, that has Peronism as its main component, has suffered persecutions, rejections, proscriptions, like any other political party in Argentina. In the name of those tragedies is that we would never think of doing something that could damage the governability of Argentineans", said the outgoing president during a rally in the province of Buenos Aires.
Joined by Buenos Aires province mayors, provincial governors and representatives of the Justicialista Party, Cristina Fernandez underlined that "We will watch over the rights of all Argentines, to be respected and acknowledged. We will cooperate and will never leave a government without a budget as they did to me in 2010, because we are men and women who know about government responsibilities".
Affirming she will "never leave" and "will always be with you," Cristina Fernández highlighted the current unemployment rate of 5.9% and praised the human rights trials that have convicted several former military officials that tortured and killed thousands during Argentina's bloody 1976-1983 civil-military dictatorship.
In a direct criticism to incoming president Macri and his pro-business friendly policies, Cristina Fernandez said that "a country is not like a company; in a company you have a budget, a balance sheet, you make so much or you lose so much...but in a country it's more complicated: you have to look at how many Argentines are in,...and how many you have left out, so beware of business managers..."
The president then went on to say that "I want to give all Argentines the tranquility that the responsibility, the history and our convictions and feelings, a deep feeling, that we will respect democratic will and hope the homeland does right. We want the country to do well".
Cristina Fernandez recalled the work done by Argentine scientists who returned to the country after the 2001-2002 crisis when they were forced to leave the nation in search of a better future and job opportunities.
"We leave with more than a thousand scientists that have returned, with the most important investment in science and technology that could be remembered in the history of Argentina," she said and hailed the recent launching of the ARSAT 1 and ARSAT 2 satellites.
Finally, more important than all this, "I say we have empowered people about their rights. People know what their rights are. They have not summoned themselves, they have become empowered. In each of you, there are your rights. We will be right there defending the conquests, the sowing of national, popular and democratic conscience all across Argentina, in every woman, man, worker, scientist and all who believe in the homeland".
However despite Cristina Fernandez efforts to be seen as the leader of the opposition when Macri takes office, she will have a raft of competitors. The dissident and orthodox Peronists will want to recover the movement and away from the Kirchners, particularly those who despite defeat held on to their turfs, and those who helped with Macri's victory.